Integra to Launch GaN Power Devices at IMS 2018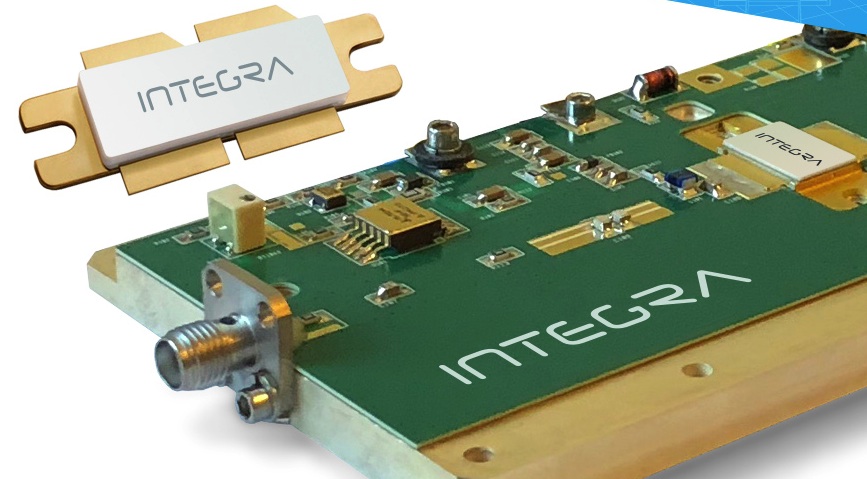 New range of 50Ω fully matched RF power transistors and integrated modules target pulsed radar applications.

Integra Technologies, a US designer of high-power RF power transistors and module, is launching several new 50Ω (fully matched) RF power transistors and integrated RF power modules for pulsed radar applications at this year's International Microwave Symposium in Philadelphia, PA.

IIGNP0912L1KW is a 50Ω GaN/SiC, RF power module for L- Band avionics systems operating over the instantaneous bandwidth of 0.960 - 1.215 GHz. This integrated amplifier module supplies a minimum of 1000W of peak pulse power, under the conditions of 2.5ms pulse width, and 20 percent duty cycle, while offering excellent thermal stability.
IGT5259L50 is a 50Ω GaN/SiC transistor, offering 50W at 5-6 GHz for pulsed C-band radar applications.
IGN1214L500B is a high-power GaN/SiC HEMT transistor that supplies 500W at 1.2 - 1.4 GHz, and offers 50V drain bias, 15.5dB gain, and 65 percent efficiency. This transistor is designed for long-pulse L-band radar applications.
Along with these products, Integra will be discussing upcoming products to be released, including RF power modules up to 2000W, X-band transistors, and a line of devices with advanced thermal control.
"We're thrilled to mark IMS 2018 as Integra's break out moment in providing the industry's most advanced standard and semi-custom RF power devices," says Integra's CEO Suja Ramnath. "Our R&D team has been working diligently to push the boundaries of power and efficiency and we invite all radar system designers to partner up with us and "˜Find Your Power'.