$18.5 billion 3D imaging and sensing market by 2023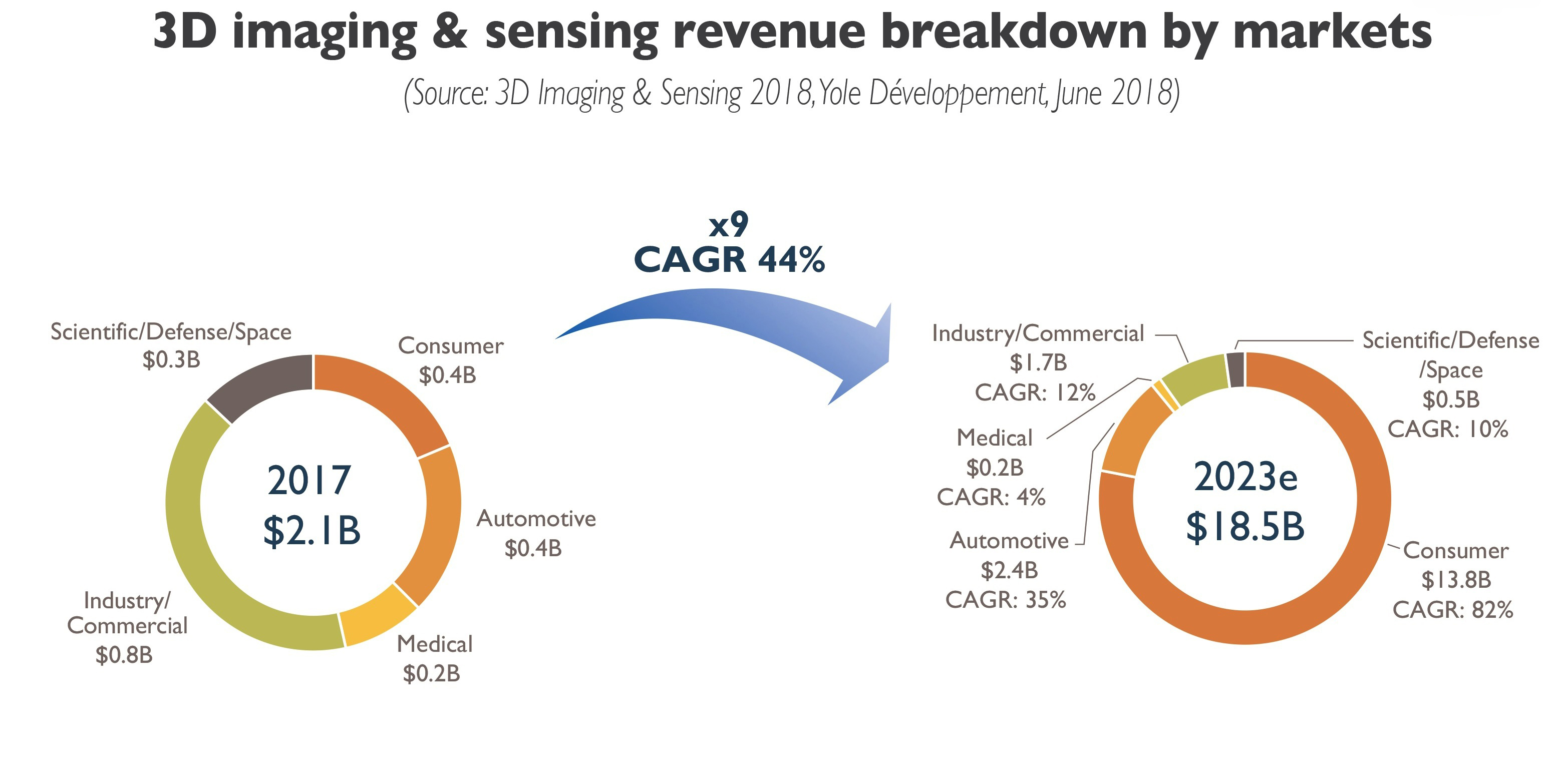 Providers of global shutter image sensors, VCSELs, injection-moulded and glass optics, and semiconductor packaging are all benefiting from market growth
In its new 3D Imaging & Sensing report, 2018 Edition, market research company Yole Développement predicts that the global 3D imaging and sensing market will grow from $2.1 billion in 2017 to $18.5 billion in 2023. That's an impressive 44 percent CAGR.
With the introduction of the iPhone X in September 2017, Apple set the standard for 3D sensing in consumer applications. Apple created a complex assembly of camera modules and light sources using structured light principles, along with an innovative near infrared global shutter image sensor.
Other smartphone players are now quickly devising their own 3D sensing strategy. As an example, Oppo made the first announcement beginning of the year with Orbeec, while Xiaomi released the Mi 8 explorer edition with Mantis as a technology partner. "We expect Huawei to release its own solution soon, probably partnering with ams and Sunny Optical", asserts Pierre Cambou from Yole Développement. "3D-enabled smartphones started off in-line with our previous forecast, which was conservative due to the solution's high cost."
Once the alternative supply chains for Android smartphones are in place, the adoption/attachment rate should accelerate and move from 13.5 percent in 2018 to 55 percent in 2023, says Yole. The attachment on the phone's rear (world) face remains a key question, as AR/VR has yet to show proven sales momentum. Yole nevertheless forecasts an emergence of rear 3D camera, though with limited penetration.

Other notable next steps should include expansion into other consumer devices, and in automotive. In particular, consumer robotics should highly benefit. The high-end markets, i.e. medical, industrial, and scientific, are already well-accustomed to the modality and will accelerate adoption. Technology providers of VCSELs, global shutter image sensors, injection-moulded and glass optics, and semiconductor packaging are all benefiting.

"From our depiction of the market in March 2017, the main gap is in illumination ASP, which is greater than expected," comments Yole's Pierre Cambou, principal analyst, technology and market for imaging. "High expenses in dot and flood illumination VCSELs from Lumentum/II-VI/Finisar, along with the dot illuminator optical assembly from ams, are the biggest technology surprises powering Apple's $1,000 smartphone."
Yole's analysts will share their vision of the 3D imaging and sensing industry during a selection of upcoming trade shows and conferences and dedicated forums. These include: Leti Innovation Days & Satellite Workshops (July 2 to 6 in Grenoble, France); European Imaging & Sensors Summit (September 19 to 21, Grenoble, France). Yole is also supporting COMS 2018 (September 24 to 26 in Montreux, Switzerland).