Macom Expands wideband MMIC Portfolio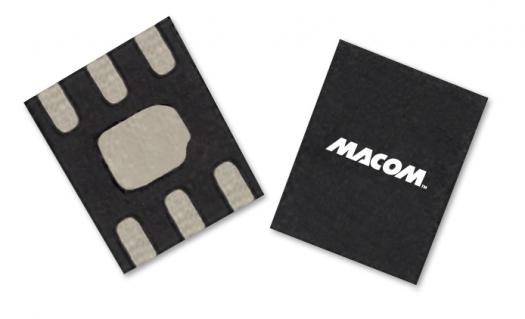 New amplifiers suit applications from land mobile radio to wired broadband
Macom Technology has introduced two wideband amplifiers, the MAAM-011229, a low noise amplifier (LNA), and the MAAM-011206, a Darlington amplifier, to its portfolio of MMICs.
The new MAAM-011206 Darlington amplifier operates from DC to 15 GHz and is designed for test & measurement, land mobile radio applications, wireless and satellite communications.. This device is said to outperform competitive parts with superior frequency range, higher gain of 14dB, improved return loss of >15dB and higher output power drive of 20dBm P1dB.
It is housed in a 1.5 x 1.2 mm plastic SMT package and uses a single bias from +3 V to +5 V.
The new MAAM-011229 is a 3 to 5V broadband LNA covering the frequency of 0.05 to 4GHz. This 50 ohm LNA provides flat gain and return losses to 3.25GHz and out to 4GHz with a 1.2dB roll off while keeping noise figure below 2dB.
Simple matching and bias circuit, along with active bias are said to enable the 2mm 8 lead MAAM-011229 to be an excellent, multi-market amplifier for customers.
"We are pleased to announce the first of many high-performance MMIC families with these current adjustable, fully matched surface mount devices," Graham Board, senior director, RF and Microwave, at Macom.
"These two devices are just a fraction of Macom's expanding product portfolio that ranges from DC-100GHz. We're committed to enabling our customers' applications and helping them solve their most challenging design needs."
MACOM is showing its latest MMICs at European Microwave Week (EuMW) 2016 in London 3 to 7th October.