GSS appoints new business development director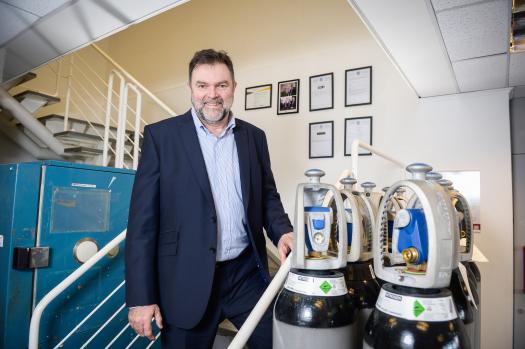 Gas Sensing Solutions (GSS), designer and manufacturer of low power, high speed Non-Dispersive Infrared (NDIR) carbon dioxide gas sensors based on long-wavelength, antimonide-based LEDs, has a new business development director.
Grant Notman brings significant sales and channel management experience from previous roles with companies such as Transition Networks and Ultra Electronics, RAD Communications and Racal.
With years of director and VP-level experience in M2M, IoT, telecommunications and business restructuring for wireless and satellite companies, Grant is a strong addition to the GSS commercial team.
Ralph Weir, was recently appointed as the new CEO of GSS. He is working closely with GSS founder Alan Henderson, to scale the business, building on the platform of world-beating technology and products developed to date to drive its global expansion.
Ralph said;
"We are in the next phase of the business, targeting hyper growth. The international market is particularly buoyant for us and we will be focused on making major inroads there over the next couple of years across Europe, Asia and North America. Grant will play a vital role here. He is an outstanding senior sales and marketing leader with a successful global track record in M2M, IoT, data communications and networking equipment sectors, delivering a consistent record of sales, margin and profit growth.
"He has a track record that is second to none in driving change and generating lucrative lines of business in new markets by creating innovative strategies based on sound analysis. He utilises exceptional relationship skills that consistently deliver outstanding business success through major sales and marketing campaigns and we're delighted to have him on board."
Grant added:
"I'm joining GSS at an exciting time for the company. I share Ralph's vision for moving the business forward and I can't wait to get started. GSS has already delivered hundreds of thousands of sensors globally and I aim to build on this legacy moving forwards. My first objective is to support the team at AHR Expo in Las Vegas at the end of the month, where we will be unveiling a new product that should really excite the market."
In addition to being a national winner of the Institute of Physics award for Innovation in July 2014, GSS won first prize in the Shell Springboard awards in 2012, John Logie Baird Innovation award in 2008 and five TSB Awards.