Lumileds produces 1,700 Lumen from single Die LED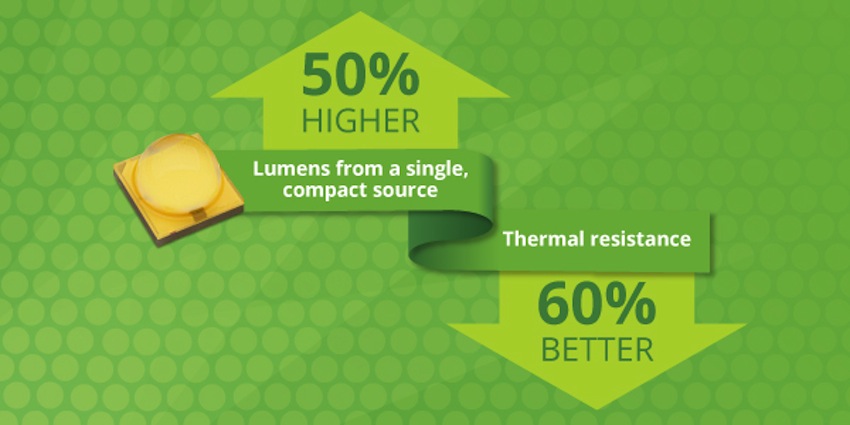 Luxeon V offers 50 percent higher lumens and 60 percent lower thermal resistance compared to competitors
Lumileds has revealed its highest flux density LED, the Luxeon V. Packaged in a 4.0 mm x 4.0 mm footprint, the new LED produces more than 1,700 lumens at 5700K and 70 CRI (4.8 A), which is claimed to be 50 percent higher output than competing devices.
"Luxeon V enables fixture designs that were previously unattainable for stadium and area lighting, torch and other portables because of the unique combination of high efficacy at high drive current with extremely low thermal resistance and optimised radiation pattern," said Kathleen Hartnett, senior director, product marketing at Lumileds.
Luxeon V LEDs use Lumileds' next generation Patterned Sapphire Substrate (PSS) Chip Scale Packaging (CSP) technology, to deliver high efficacy at high drive currents, higher max drive current, and higher lm/mm2.
The nominal drive current is 1.4 A and the LEDs may be driven at up to 4.8 A, which is 60 percent higher than competing emitters, according to the company.
With very low thermal resistance of 0.8 K/W, designers can use smaller heat sinks for sleeker, more compact fixtures. Luxeon V LEDs feature a standard 3-stripe footprint for ease of design and assembly and is offered in a range of CCTs including 3000K to 6500K.