Navitas GaN ICs shrink Laptop Adapters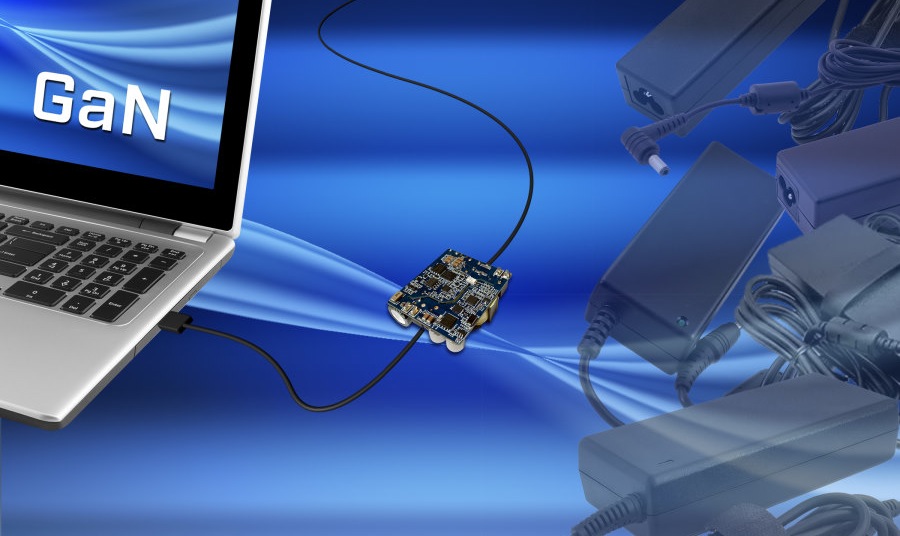 USB-PD adapter reference design delivers 65W in 51 x 43 x 20.5 mm
Navitas Semiconductor has announced what it believes is the world's smallest 65W USB-PD (Type C) adapter reference design, to keep pace with the dramatic size and weight reductions in laptop designs over the last ten years.

High-frequency, high-efficiency AllGaN Power ICs are used to deliver 65W in only 45cc / 2.7in3 and only 60g in weight by minimising the size, weight and cost of transformers, filters and heatsinks. By contract, existing silicon-based designs can require 6 to 7in3 and weigh over 300g, according to the company.
The NVE028A reference design achieves its small size (51 x 43 x 20.5 mm cased) and breakthrough power density (1.5 W/cc, 24 W/in3 cased) using simple, standard, low-cost manufacturing techniques.
"Finally, a laptop adapter is thin and light - like the laptop it charges "" and at a great price", said Stephen Oliver, the company's vice president of sales & marketing. "Power designers have been faced with several, conflicting industry challenges, from new USB Type C connectivity and USB PD (Power Delivery) output compliance to statutory energy efficiency standards and the ever-present issue of cost. Navitas GaN Power ICs deliver the simultaneous achievements of high-speed operation and high efficiency to enable a single system design that meets all of those challenges "" at the same or lower cost than old, slow silicon designs".
The new NVE028A reference design uses GaN Power ICs in an in an active clamp flyback (ACF) topology running three to four times faster and with 40 percent lower loss than typical adapter designs, to deliver smaller size and reduced costs. The design is fully compliant with European CoC Tier 2 and US DoE Level VI efficiency standards, in addition to reaching peak efficiencies of over 94 percent at full load.
"This is a major achievement in adapter design", said Mark Dehong Xu, president of the China Power Supply Society (CPSS) and director of the Institute of Power Electronics, Zhejiang University. "I think China Power Supply manufactures have been looking for wide-band-gap components like this, to further increase the power supply's efficiency and power density to satisfy the requirement of customers".
"Since we introduced the AllGaN platform at APEC'16, Navitas has announced single and half-bridge GaN Power ICs, the world's smallest 150W adapter, and now the world's smallest, fully-compliant 65W USB-PD design", said Gene Sheridan, Navitas CEO. "This is the flexible, high-performance, cost-effective platform that meets and exceeds the targets of the mobile and consumer charger markets".