Transphorm's GaN chips Move into PC Gaming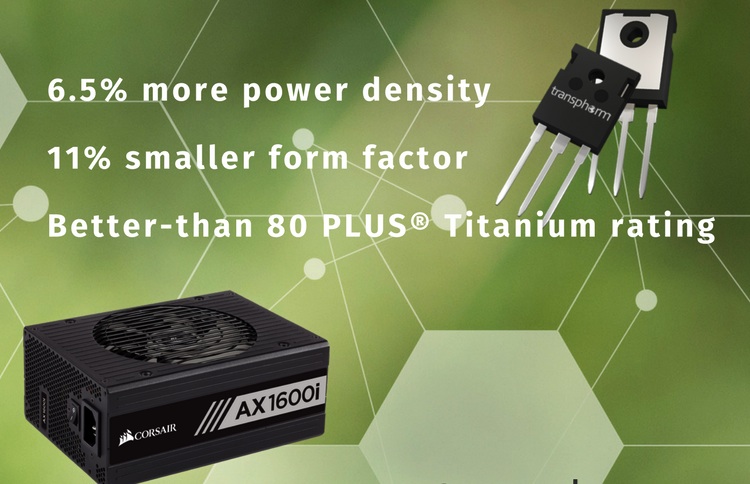 650V GaN FETs are used in Corsair's new AX1600i power supply unit
Transphorm, a maker of hi-res, high voltage GaN semiconductors has confirmed that its GaN FETs are used in Corsair's new AX1600i Power Supply Unit (PSU).

Corsair supplies the gaming community with high-performance products used in custom PCs. The company's latest product establishes a new class of AC-to-DC PSUs, as it is the first to use GaN and achieves 99 percent efficiency.
Transphorm's GaN increases the PSU's power output by 6.5 percent in an 11 percent smaller package at the same temperature.
The AX1600i uses Transphorm's TPH3205WS 650V FETs in a bridgeless totem-pole power factor correction (PFC) "" the topology that complements GaN's performance and efficiency potential.
With an increase of 6 percent within this topology, Corsair's PSU efficiency now earns a better-than an 80 PLUS Titanium rating. [Previous Corsair power supplies used silicon superjunction (SJ) MOSFETs in a 2-phased interleaved PFC, reaching 93 percent efficiency.]
"Our objective was to take an already award-winning PSU and make it better," explained Jon Gerow, PSU R&DmManager, Corsair. "We aimed to maximise output from any PC running on a 115V mains. To do this, we had to adopt innovative methods and materials. Transphorm's GaN ultimately gave us the boost in performance, efficiency and size we wanted along with the high quality and reliability we needed to confidently release the AX1600i to our customers."
After researching market-available GaN devices, Corsair chose Transphorm's FETs as they enabled the AX1600i to deliver new benchmarks compared to the previous AX1500i. The power output of 1600W, 6.5 percent increase; size reduction: 20 mm shorter, 11 percent smaller; thermal impact: equivalent 50degC continuous output; and audible noise impact: slower fan speed with less noise at full load.
Corsair noted that Transphorm's packaging also played a role in its selection process. The TPH3205WS comes in a commonly used TO-247 package, reducing some design complexity.
"Corsair's brand is built on products that give our customers a competitive edge, inside and outside of the gaming PC. And, Transphorm's GaN presented an invaluable opportunity to advance the PSU - to make it smaller, quieter, cooler, and, most importantly, more powerful," added Gerow.
Founded in 1994, Corsair supplies high-performance products purchased primarily by PC gaming enthusiasts who build their own PCs or buy pre-assembled customised systems. The company's award-winning products include fully-assembled PCs, DDR4 and DDR3 memory, computer cases, PC cooling products, gaming headsets, gaming keyboards, gaming mice, power supply units, USB flash drives, solid-state drives and system monitoring and control devices.