Wentai uses Transphorm GaN FETs in 1.6 kW Gaming Power Supply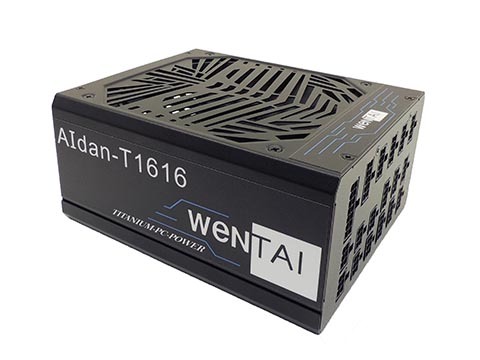 1.6 kW ATX PC Gaming PSU achieves an 80 PLUS Titanium power rating with 95 percent efficiency

Transphorm, a maker of hi-rel JEDEC- and AEC-Q101 qualified high-voltage (HV) GaN semiconductors, has confirmed that Taiwanese OEM Wentai Technology has developed a Titanium ATX gaming power supply series called Aidan that uses Transphorm's TP65H050WS Gen III 50mΩ GaN FET in an interleaved CCM boost PFC.

The result is a fully-modular, low-noise 1.6kW 80 PLUS Titanium power supply unit (PSU) with close to 95 percent efficiency.
The Aidan ATX PSU series targets consumer computing markets requiring ultra-high power such as PC gaming, Esports, artificial intelligence (AI), and cryptocurrency mining. When compared to Wentai's Silicon-based 1.28kW PSU, the Aidan-T1616 offers 328W more power and approximately one percent higher efficiency at 50 percent full load—all within the same form factor. This equates to a 20 percent increase in power density.

"The high-performant PC market serves use cases such as immersive gaming, artificial intelligence (AI) and virtual currency mining that requires a large amount of reliable power in comparison to everyday PC use," said Aidan Liao, senior R&D director, Wentai. "GaN provided the right technological advantage for us to conceive the Aidan PSU's design to answer that need. Transphorm's GaN provided the right quality, reliability and performance advantage for us to ultimately deliver on our vision with a top-quality, fairly priced power supply."

Wentai's power system development project occurred over the course of 18 months. Throughout that time, the company worked with Transphorm's regional application support team whose positive reputation, according to Liao, was another influencing factor behind Wentai choosing Transphorm's GaN devices.