Excelitas introduces new InGaAs SMD Photodiodes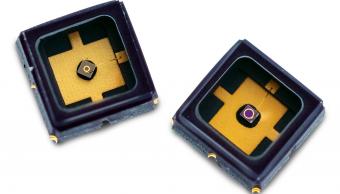 New compact package enables easy integration for high volume range-finding and LiDAR applications

Photonics company Excelitas Technologies has announced two new high speed, large area C30645L-080 and C30662L-200 InGaAs SMD Avalanche Photodiodes (APDs).
With high quantum efficiency, high responsivity and low noise in the spectral range between 1000 nm and 1700 nm, the InGaAs APDs are optimised for a wavelength of 1550 nm. The ceramic surface mount package of only 3 x 3 mm² size allows for easy integration into high-volume commercial and industrial applications, including eye-safe laser range finding systems and LiDAR time of flight systems.

The C30645L-080 and C30662L-200 feature a large detection active area of 80 µm and 200 µm to facilitate the integration of optics
"As systems become more and more compact, smaller packages as offered by the C30645L-080 and C30662L-200 become critical to system integration. In addition, as volumes increase and new applications in time of flight are unlocked, more economical, high-volume manufacturing capabilities are also required to meet market needs in this area," said Denis Boudreau, product leader, photon detection at Excelitas. "Our new highly compact surface mount InGaAs APDs were designed with this in mind, providing design engineers with a cost-efficient package where filters can be integrated, for the development of a variety of high-volume commercial and industrial applications."
The package design and assembly processing techniques for the C30645L-080 and C30662L-200 are such that the die positioning is well controlled to the reference surfaces. This aids in the alignment of optical elements to the package and is superior to many of the commercially available plastic lead frame TO packages.