Infineon adds 62mm package to CoolSiC portfolio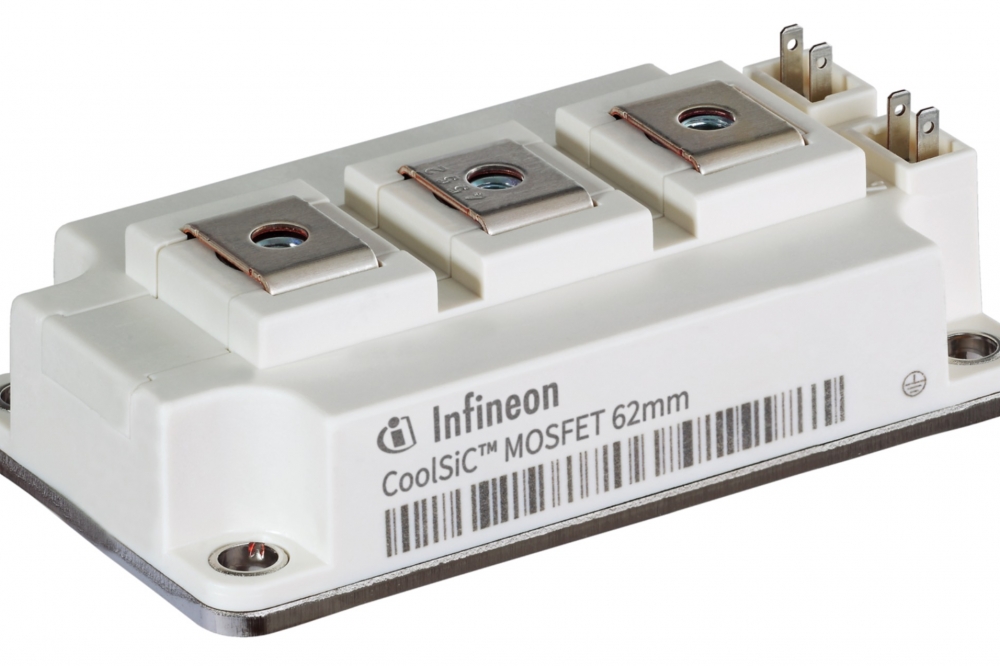 Half-bridge topology devices help engineers to achieve higher efficiency and power density

Infineon has expanded its CoolSiC 1200 V and 2000 V MOSFET module families with a new industry-standard package.

The 62mm device is designed in half-bridge topology and is based on the recently introduced and advanced M1H SiC MOSFET technology.
The package enables the use of SiC for mid-power applications from 250 kW – where silicon reaches the limits of power density with IGBT technology. Compared to a 62mm IGBT module, the list of applications now additionally includes solar, server, energy storage, EV charger, traction, commercial induction cooking and power conversion systems, according to Infineon.
Infineon says its M1H technology is designed enable a significantly wider gate voltage window, ensuring high robustness to driver and layout-induced voltage spikes at the gate without any restrictions even at high switching frequencies. In addition, low switching and transmission losses minimise cooling requirements.
The CoolSiC 62mm package MOSFETs are available in 1200 V variants of 5 mΩ/180 A, 2 mΩ/420 A and 1 mΩ/560 A. The 2000 V portfolio will include the 4 mΩ/300 A and 3 mΩ/400 A variants. The portfolio will be completed in Q1 2024 with the 1200 V/3 mΩ and 2000 V/5 mΩ variants.
An evaluation board is available for rapid characterisation of the modules (double pulse/continuous operation).