IQE reports continued growth despite customer inventory de-stocking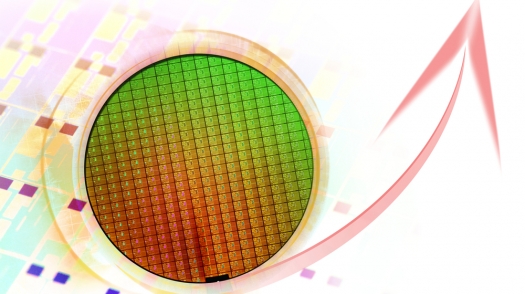 Wireless demand is recovering and photonics revenues are up 22 percent
IQE has announced its half-year results for the six months to 30 June 2014. Earnings before interest, taxes, depreciation, and amortisation were up 6 percent to £11.1m (H1 2013: £10.5m). Revenues were down 17 percent to £52.0m (H1 2013: £63.0m) reflecting inventory de-stocking and strength of sterling. But wireless demand recovered during Q2 from customer inventory de-stocking. Photonics H1 2014 revenues were up 22 percent on H1 2013 in constant currency to £10.1m.
The photonics growth reflects significant contract wins, according to the company. Moreover, the benefits of the company's restructuring programme are beginning to come through in H1 2014. With restructuring largely complete, further benefits to be seen in H2 2014 and thereafter.
Drew Nelson, IQE CEO, said: "The group has again demonstrated the resilience of its business model through the delivery of continued growth in profitability despite the lower than expected revenues resulting from adverse effects of a significant inventory correction in the wireless industry and the translational effect of a strengthening of the sterling exchange rate against the US Dollar.
"Wireless will continue to be a long term growth driver for our business as increasing connectivity continues to drive increasing demand for compound semiconductor devices. In addition our technology leadership and credibility in photonics are translating into contract wins, which have delivered a 22 percent year on year growth in photonics revenues in constant currency."
(Wireless accounts for approximately 80 percent of IQE's group revenues and the company has an estimated global market share of more than 50 percent.)
According to Nelson, photonics growth is being driven by many end market applications including optical communications for backhaul, fibre-to-the-home, and data centres, gesture recognition and sensing, and industrial applications. "This growth will be further supported with the transition from the development phase into commercial production for high efficiency solar power (CPV), anticipated for the second half of 2014," he added.
"Having established a world-leading position in the wireless communications market, IQE is beginning to replicate this across our other markets including photonics, infrared, power, solar and CMOS++, the last of which is focussing on advanced technologies combining the simplicity of CMOS with the power of compound semiconductors," he said.
Outlook
According to the company, the improvement in underlying profitability achieved reflects the work it has done to improve efficiencies and deliver economies of scale. Despite anticipating lower full year revenues due to the inventory corrections during the first half, coupled with changes in product mix, the Board remains confident in the group being on track to deliver full year earnings in line with expectations.
The de-stocking was concluded during Q2 and customers are forecasting an upbeat second half. The company states that its investment in photonics technology is delivering tangible benefits, and has resulted in multiple contract wins. The CPV business is in the final stages of end customer qualification and remains on track to move from final development and customer qualification to production in H2.
IQE also reports having made significant technical and commercial progress in other areas such as GaN development. This includes participating in a significant US government funded programme to develop GaN on silicon power switching technology for grid applications. IQE's materials development is at an advanced stage, with initial product launches expected over the coming months.