Uncovering New Opportunities For III-V Cells
Terrestrial opportunities for III-V cells are not limited to concentrating photovoltaics: These devices can also form flexible, efficient power sources for unmanned aircraft, smartphones, tablets and automobiles.
By Robert Parenti from Alta Devices
When Neil Armstrong took his first steps on the moon on July 20, 1969, the Cold War Space Race came to an end.
That most famous of days of the twentieth century was a high point for the US, which had been battling with Russia since the 1950s to be the leading force in space exploration. The communist superpower drew first blood, thanks to its successful launch of the first two satellites, Sputnik 1 and 2, but it didn't stay ahead for long. Five months later the US fought back with the launch of Explorer 1, before breaking new ground on 17 March 1958 with the launch of Vanguard 1 "" the first satellite to be powered by solar cells.
This satellite, which is still orbiting the world today, features cells made from silicon. It is this form of solar technology that has been used on many of the proceeding satellites âˆ' but its ascendancy has not lasted to today, due to the development of the GaAs and III-V solar cells in 1970 by Zhores Alferov from the Ioffe Physico-Technical Institute of the USSR Academy of Sciences.
These compound semiconductor cells are superior to those based on silicon, by being more robust to moisture, radiation, and ultraviolet light; boasting the highest efficiencies (solar-to-mechanical energy); and exhibiting extremely low degradation with temperature increases.
Thanks to these strengths, by 1990 GaAs had surpassed silicon as the most widely adopted solar technology in space, and today single and multi-junction III-V solar panels are considered the industry standard.
That is not to say, however, that III-V cells are faultless. Weaknesses include being rigid, heavy and limited in size, and having wafer costs around two hundred times those of silicon. The latter impediment has restricted their use to government-funded projects, mainly in space.
But what would be possible if GaAs cells were cheap, lightweight, flexible, and durable "" and delivered all these attributes while maintaining a high efficiency?
At Alta Devices of Sunnyvale, California, we are working on turning this vision into a reality. The mission of our company, which was founded in 2008 by academics Harry Atwater of Caltech and Eli Yablonovitch of the University of California, Berkeley, is to bring mobile power to the masses. To succeed in this endeavor we have developed a process that allows us to grow and separate thin films of GaAs from the top of single crystal wafers, which can be reused, thereby slashing substrate costs.
Another strength of this process is the high efficiencies that can be realized âˆ' in 2011 we propelled the single-junction solar cell efficiency record to 28.8 percent. This is close to the theoretical limit, and surpasses the best silicon solar cells, which can offer an efficiency of up to 25 percent.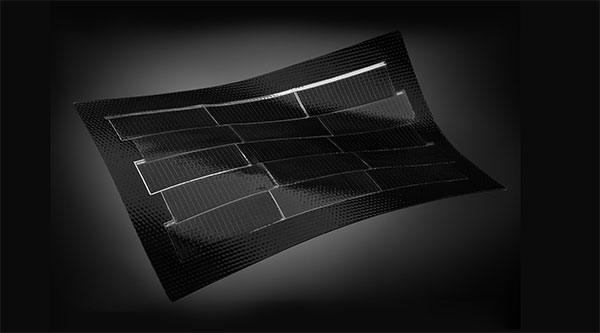 Thin Film Matrices provided by Alta Devices can provide 250 W/m2 and weigh as little as 1 g/W
On top of this efficiency benefit, GaAs thin-film cells deliver additional advantages: They weigh less, and because they are flexible, they can wrap around curved surfaces.
Simply looking at the efficiency figures fails to provide a full appreciation of the superiority of GaAs cells over those made from silicon. Due to the higher bandgap of GaAs, electrons generated in the photovoltaic process are excited to higher energies, enabling higher aerial power densities. What's more, cells made from this binary alloy convert light into energy across the entire visible and into the near infrared spectrum, making them suited to not only the outdoors, but also cloudy, low light, and even indoor applications. Although a handful of silicon-based materials can provide power indoors, their efficiencies are almost three times lower than those of GaAs.
Our claim of the superiority of GaAs over silicon is backed up by independent studies conducted by the National Renewable Energy Laboratory (NREL). This investigation revealed that our GaAs solar cells produced more energy than those made from silicon when operated under the same conditions âˆ' and when conditions changed, due to an increase in temperature, the reduction in performance was much smaller.
The strengths of solar cells made from thin films of GaAs and other III-V materials will allow them to operate in new markets, rather than fight for use in large solar panels that line roofs and traverse the Western deserts of the US. Thanks to their high aerial power densities, these materials can thrive within the relatively untouched mobile markets. Their inherent properties, which are particularly suited to providing power indoors, would allow them to win sales in automotive, unmanned aerial system, portable power, wearable, smart phone, tablet, and Internet of Things (IoT) markets. It should even be possible to extend the battery life of low-power IoT and wearable devices indefinitely, by coupling thin-film GaAs solar cells with the latest energy-harvesting chips.
Cutting the cord with mobile solar technology is not just a benefit to those in developed nations "" it could also make a big difference to the lives of those living in the poorer nations of the world. Here, the demand for devices that connect to the internet is rising fastest. Last year alone, while web usage on mobile devices increased 25 percent globally, it shot up by 40 percent in Africa, despite the vast majority of those living there having limited access to electricity. Traditional power grids cannot keep pace with this rising demand, but this gap can be plugged by smarter and cleaner solutions, such as thin-film GaAs solar technologies.
Given the abundance of gallium and arsenic, which are relatively inexpensive to extract and obtain, there is no reason why there cannot be a world filled with GaAs solar cells. And their cost should not hold back sales, thanks to the manufacturing processes that we have developed for mass production of highly efficient thin-film cells. So following decades of development and deployment on satellites, the time has now come for GaAs solar cells to come back to earth with a splash.
AngelTech Live III: Join us on 12 April 2021!
AngelTech Live III will be broadcast on
12 April 2021, 10am BST, rebroadcast on 14 April (10am CTT) and 16 April (10am PST)
and will feature online versions of the market-leading physical events:
CS International
and
PIC International
PLUS a brand new
Silicon Semiconductor International
Track!
Thanks to the great diversity of the semiconductor industry, we are always chasing new markets and developing a range of exciting technologies.
2021 is no different. Over the last few months interest in deep-UV LEDs has rocketed, due to its capability to disinfect and sanitise areas and combat Covid-19. We shall consider a roadmap for this device, along with technologies for boosting its output.
We shall also look at microLEDs, a display with many wonderful attributes, identifying processes for handling the mass transfer of tiny emitters that hold the key to commercialisation of this technology.
We shall also discuss electrification of transportation, underpinned by wide bandgap power electronics and supported by blue lasers that are ideal for processing copper.
Additional areas we will cover include the development of GaN ICs, to improve the reach of power electronics; the great strides that have been made with gallium oxide; and a look at new materials, such as cubic GaN and AlScN.
Having attracted 1500 delegates over the last 2 online summits, the 3rd event promises to be even bigger and better – with 3 interactive sessions over 1 day and will once again prove to be a key event across the semiconductor and photonic integrated circuits calendar.
So make sure you sign up today and discover the latest cutting edge developments across the compound semiconductor and integrated photonics value chain.
REGISTER FOR FREE
VIEW SESSIONS