Midsummer receives funding for CIGS modules on ultra-light cars
Mistra project will evaluate thin-film solar panels for urban transport using Clean Motion Zbee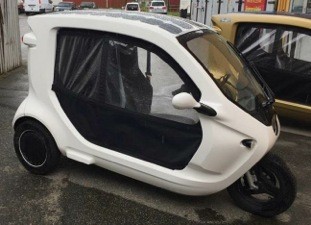 Swedish solar energy company Midsummer, a provider of equipment for CIGS thin film solar cells, has received funding from the Swedish Foundation for Strategic Environmental Research (Mistra) to develop lightweight solar modules on vehicles. The solar panels will be integrated in body panels in a Clean Motion Zbee ultra-light electric vehicle composite roof.
Clean Motion has developed the ultra-light electric vehicle Zbee with the goal to create a vehicle using little resources, without compromising safety or design. Solar panels would give the possibility to use solar energy to recharge the vehicle's battery, which would increase the possible driving distance before need of conventional battery charge.
The project aims to evaluate the integration of thin-film solar panels for urban transports using ultra-light vehicles. The integrated solar panels will be a part in developing super efficient electrical vehicles for the future needs of urban transports.
"The developed solar panels will be integrated in body panels in a Clean Motion Zbee's composite roof. In this context, using solar panels is the only way towards making a vehicle energy autonomic", said Sven Lindström, CEO, Midsummer.
"Midsummer solar panels are flexible both by being bendable and possible to manufacture in different size and voltage configurations. Also, the CIGS cells on thin stainless steel substrates together with the plastic material layers give resistant lightweight modules".
Solar energy increases mileage by ten per cent
Clean Motion and Midsummer have worked together to provide ZBee with solar cells that charge the battery. Standard 6in solar cells in a solar panel shaped like a 'W' allowed mounting onto the double-curved roof. The tests conducted in Sweden showed that solar energy increased the mileage with 5 km/day, which is 10 per cent increase. On the southern latitudes and with optimised PV area and electronics, mileage would increase further and some users would thus not even need conventional battery charging.
Development will continue to improve integration and performance, since the initial Zbee project demonstrates that solar cells have the potential to replace conventional battery charging as well as that Midsummer solar panels are well suitable to be customised for different applications.