Lake Shore offers THz-frequency on-wafer probing arm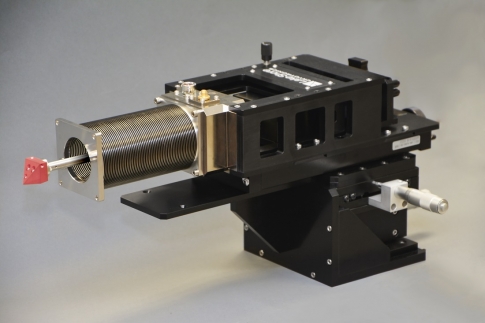 Probe allows calibrated S-parameter and other high-frequency measurements as a function of low temperature and in high magnetic field
Lake Shore Cryotronics is now offering for pre-order a terahertz-frequency probe arm option for their CPX, CPX-VF, CRX-4K and CRX-VF cryogenic probe stations. This arm enables precise probing and measurement of millimeter-wave devices at 75 to 110GHz (WR10 band) or 140 to 220GHz (WR5.1 band) frequencies within a tightly controlled cryogenic test environment.
When used with compatible probes, frequency extenders and signal analysers, the THz probe arm allows users to perform calibrated S-parameter and other high-frequency measurements as a function of low temperature and in high magnetic field. The solution offers particular value to researchers developing next-generation electronics, including new MMIC, MEMS, LNA and THz detector devices, and components for radio astronomy and 5G wireless applications.
One or two of the probe arms can be installed on a Lake Shore probe station while the station's other arm positions can be used for DC, RF or microwave GSG probing, for up to six simultaneous contact probes. Three-axis probe manipulation and theta planarization on the THz arm ensure consistent probe tip contact with the sample substrate. A bias port at the top of the probe arm assembly connects via a micro-coax cable to the probe for proper DC biasing or AC modulation of a device under test.
In addition to the micro-manipulated stage that holds the frequency extender, the probe arm assembly features a steel-welded bellow encasing a special low-loss waveguide. For wafer probing, the probe arm uses custom designed, cryogenically rated GSG T-Wave probes available from Cascade Microtech. These probes offer low-insertion loss coupling to the device under test, and different versions are available depending on the frequency band and probe pitch required for the type of device being measured.
The probe arm is designed specifically to work with MiniVNAX frequency extenders available from Virginia Diodes (VDI). These extenders can be used with most modern vector network and signal analysers, including PNAs from Keysight Technologies.