Photonics market to reach $979.90 Billion by 2024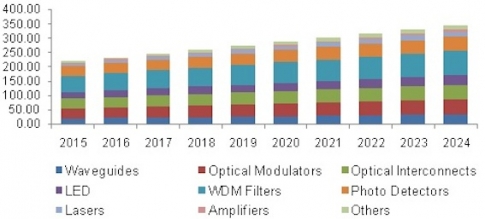 Lasers to grow at an estimated CAGR of over 7 percent
North America photonics market by product, 2015 - 2024 ($Billion)
According to report published by Grand View Research, the global photonics market size is expected to reach $979.90 billion by 2024.
"˜Photonics Market Analysis By Product, By Application and Segment Forecasts to 2024' covers waveguides, optical modulators, optical interconnects, LEDs, WDM filters, photo detectors, lasers, and amplifiers. Applications include consumer electronics, displays, safety & defence, communication, metrology, sensing, healthcare, and high-performance computing.
Lasers are one product anticipated to witness a substantial growth over the forecast period, growing at an estimated CAGR of over 7 percent from 2016 to 2024. The growth in this segment, according Grand View Research, can be primarily attributed to rapid developments in the industry to incorporate miniature laser projection units as a light source in next-generation pico-projectors. Lasers are being increasingly used in the production of textiles and clothing as well as fine chemicals and pharmaceuticals.
In terms of revenue, North America dominated the global photonics market in 2015 and is expected to retain its dominance over the forecast period.