Navitas: Plans for GaN dominance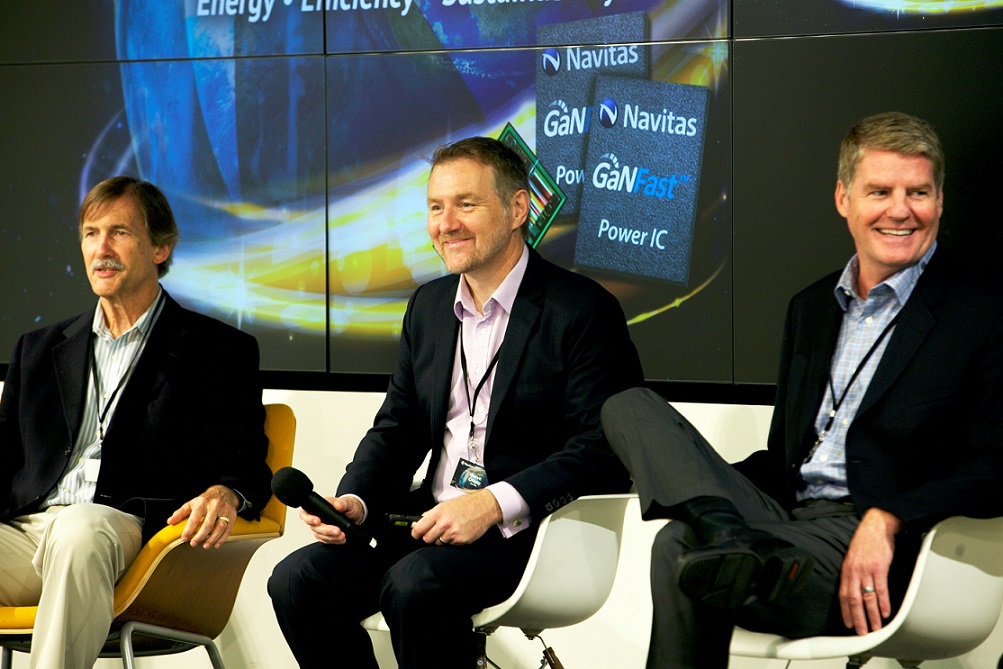 Recent analysis indicates that Navitas is now the market leader of GaN power devices. Rebecca Pool talks to Stephen Oliver, Vice President of Investor Relations, about the company's progress, products and plans.

Image: Stephen Oliver (centre) with Dan Kinzer, Co-Founder and Chief Technology Officer/Chief Operating Officer (left), and Gene Sheridan, Co-Founder and Chief Executive Officer, at Navitas Semiconductor, US.
Tell us how it's been to work with GaN so far.
I would say that 2021 is the year when the world really 'got' gallium nitride. We're a young company – only 7 years old – but we're also a bunch of 'old engineers'. A lot of us worked together at International Rectifier back in the 80's, 90's and 2000's before it went its different ways to Vishay and then Infineon. GaN certainly went through a troubled adolescence but by the late-2000s, Alex Lidow, who had left International Rectifier and launched EPC in 2007, was pioneering low-voltage, enhancement-mode discrete GaN-on-Si FETs, using Episil, Taiwan, as the foundry supplier. He did a lot of heavy-lifting with quality and reliability proof-points, so when Navitas delivered high-voltage GaN power IC prototypes in 2014, and went into mass production in 2018, the enhancement-mode platform was already accepted.
Your GaN power ICs combine several power electronics functions onto a single GaN chip – why take an integrated approach?
GaN is awesome, but it has its Achilles heel – the weak gate structure. This requires external silicon-based drive and control, which increases costs, [device] size, energy losses and also inhibits GaN's high-speed performance. So, we set out to deliver an easy-to-use, 'digital-in, power-out' GaN power IC which fully protects the GaN gate, and optimizes the system for performance and reliability. I would say the majority of power designers struggled with discretes but then tried the Navitas 'Lego brick' approach and liked it.
You recently signed a strategic deal with Anker to co-develop next-generation chargers. How has your partnership helped to drive GaN power ICs forward?
We've been working with Anker since 2017, with our GaNFast power ICs being used in Anker's PowerCore Fusion PD combination charger and portable power bank from 2019. This was certainly a turning point for Navitas, and the first GaN device to appear in the Apple Store. Our latest partnership is a formalisation of the relationship, and we will second Navitas-badged engineers to Anker, and this will decrease the time-to-prototype and increase the chance of 'right-first-time'. Anker will be in the first wave to sample new prototypes - it's a great two-way relationship, and we believe Anker is one of the most technically-aggressive of the aftermarket charger companies.
Stephen Oliver, Navitas.
Your winning market right now is mobile fast chargers - how is this going?
We went into production in 2018 and our technology is now in 160 different charging products from different companies. We've got another 150 chargers in the pipeline and these will come out by the end of 2022. We announced our third generation GaNFast power ICs with GaNSense technology a month ago - it was already in mass production 'undercover' with Lenovo, and Xiaomi. We also have partnerships with Dell, OPPO, LG, Amazon, and others - overall we're working with more than 90% of OEMs that are supplying phones, laptops and tablets. When it comes to GaN, we don't have to 'handhold' now, designer engineers are just running with the technology.
What markets are next?
We expect that the majority of revenues to 2023 will come from fast charging. But this month, we're sampling another 'next generation' of GaN Power ICs into solar, datacentre and electric vehicle applications. They each have a slightly different gestation period centred around qualification time but by the end of 2023, we expect to see revenues from datacentre and solar applications kicking in. We're looking for our first electric vehicle revenues for model-year 2025, and by 2027, electric vehicles applications will probably provide our fastest, growing revenues.
TrendForce indicates Navitas holds the greatest market share of GaN power device suppliers in 2021 – is this thanks to the fast-charging market?
The trend in smartphones is for higher power so this means that legacy companies with lower-power charger designs are struggling to provide devices that operate at higher frequencies and powers. The 5 to10 Watt low-power market won't disappear completely but most companies such as Xiaomi, Oppo, Vivo, and Realme are more aggressive on charging speeds which increases the power requirement [of a device]. Around 2 billion chargers are sold every year for phones, laptops and tablets, and the average price for one of our chips to go into one of these chargers is about $1. This means there's a $2 billion market today just in fast mobile chargers. Right now, GaN has around 2% market share with the rest belonging to legacy silicon chips. This is going to give us a lot of growth in fast charging.
What are your thoughts on competition from InnoScience and other China-based players?
In total, there are probably a dozen companies with GaN programs right now, with a few of those from China. These market-entrants validate GaN's maturity and value to markets. This is the Wild West and it's kind of a land grab for market share right now - we estimate the GaN market could be worth more than $2 billion by 2026, so there's a lot of room for a multiple companies to be profitable.
Do you think Navitas can retain market dominance?
Obviously we want to do this, and we have a three-prong approach to maintaining and extending our lead; a strong, 130 plus patent 'wall', a proprietary process design kit, and a very fast innovation rate. We have twin IC design centres in El Segundo and Shanghai, as well as application design centres, including our new centre in Hangzhou, China. Today, the majority of our revenue comes from China, so being close to customers is critical. We're introducing a new generation of GaN power IC every 10 or 12 months and have a multi-year lead. We've also gone from being around 100 people at the start of this year to some 170 people this year - so yes, we think we can maintain our market dominance.
You process wafers with TSMC – what wafer sizes are you working with?
GaN is an extremely advanced material yet can be processed on old, low-cost, 350 nm equipment. We use TSMC's 'Fab 2' in Hsinchu, Taiwan for wafers. This is the oldest fab that TSMC still has running, and has plenty of capacity. We're working on six-inch wafers, and will do until 2022 – we will transition to larger wafer sizes at the right time. Even pre-COVID, we went to TSMC and said "Here's our aggressive forecast," and they said, "OK, we'll match that plus extra capacity on top." We have high capacity and high yields, and can provide new GaN technology with only 12-week lead-times, way less than the 30-, 40- and 50-week extended lead-times for silicon devices.
Can gallium nitride compete with silicon carbide?
SiC is great for extreme high-power, high-voltage applications and is 10 to 15 years more mature than GaN, and therefore more accepted. But take a look at our recent partnership with Swiss electric-vehicle-subsystem supplier, Brusa, to accelerate electric-vehicle adoption. The company has publicly said that it was using Si, is now using SiC, but will move to GaN for its onboard chargers. SiC switches are great for high-power, high-voltage, relatively slow-switching speed applications like a wind turbine or electric locomotive. But if you have a four-passenger vehicle, with in-wheel, four-wheel-drive, then that's a great application for GaN. So the real battleground for GaN and SiC is going to be with traction inverters and motor drives.