From lab to fab: World record perovskite tandem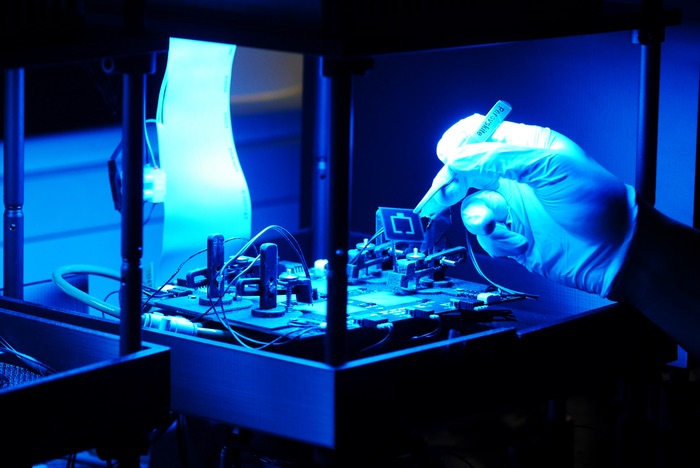 Q CELLS has set a record silicon/perovskite tandem cell efficiency of 28.7 percent in collaboration with researchers at HZB
Q CELLS, a Korean energy solutions provider in solar and energy storage has set a new world-record tandem cell efficiency of 28.7 percent in collaboration with researchers at Helmholtz-Zentrum Berlin using a Q.ANTUM-based silicon bottom cell in combination with a perovskite-based top cell.

Q CELLS' R&D team in Thalheim, Germany, has worked jointly with Helmholtz-Zentrum Berlin over the past three years to create a tandem solar cell comprising a silicon-based Q.ANTUMbottom cell and a perovskite-based top cell. This latest record efficiency result of 28.7 percent is an improvement of almost one percent point compared with the 2020 record value of 27.8 percent (which was independently verified by the Fraunhofer ISE Callab). This boost in tandem efficiency has been enabled by improvement of both the perovskite and the silicon sub cells. The research and development was partly funded by the German Federal Ministry for Economic Affairs and Climate Action (BMWK) and the state of Saxony-Anhalt.
While the solar research community has witnessed even higher perovskite-tandem cell efficiencies, these records have been achieved using lab technology that is not directly transferrable into mass production. The achievement of Q CELLS and Helmholtz-Zentrum Berlin is noteworthy principally because the 28.7 percent efficiency was reached using an industry feasible and cost-efficient bottom cell structure based on the Q.ANTUM technology.
In the past year, Q CELLS announced that it is to boost its R&D investment in Germany to €125 million over the next three years. A sizeable portion of that figure is earmarked for the continuous support of Q CELLS' R&D department on the commercialisation of perovskite-silicon tandem technology.
"Our experts have achieved several world records for tandem cells combining perovskite top cells with other bottom cells on a laboratory scale. We promote knowledge and technology transfer and welcome the fruitful collaboration with Q CELLS. It is remarkable how close the jointly achieved efficiency with a mass production ready bottom cell already comes to what we can reach at a lab scale", Bernd Rech, scientific director of HZB said.
Steve Albrecht, group leader at HZB and Juniorprofessor at Technische Universität Berlin added: "It is highly exciting that we enable this high tandem efficiency utilising industry relevant bottom cells with a high market share, so there might be fast impact of the tandem technology to revolutionise the PV market."
Daniel Jeong, CTO of Q CELLS, said: "Q CELLS is excited to announce this joint new world-record in tandem cell efficiency together with Helmholtz-Zentrum Berlin. Both teams of researchers have collaborated closely to develop a tandem cell technology, which would be able to accelerate the commercialisation process and, ultimately, deliver to the industry a genuine leap forward in photovoltaic performance. Q CELLS is confident that it can once again shape the next-generation of solar cells, and will continue to invest heavily in supporting research and development in this field."
CS International to return to Brussels – bigger and better than ever!

The leading global compound semiconductor conference and exhibition will once again bring together key players from across the value chain for two-days of strategic technical sessions, dynamic talks and unrivalled networking opportunities.

Join us face-to-face on 18-19 April 2023
View the agenda.
3 for the price of 1. Register your place and gain complementary access to TWO FURTHER industry leading conferences: PIC International and Power Electronics International.
Email info@csinternational.net or call +44 (0)24 7671 8970 for more details.