DustPhotonics and MaxLinear to demo integrated laser solution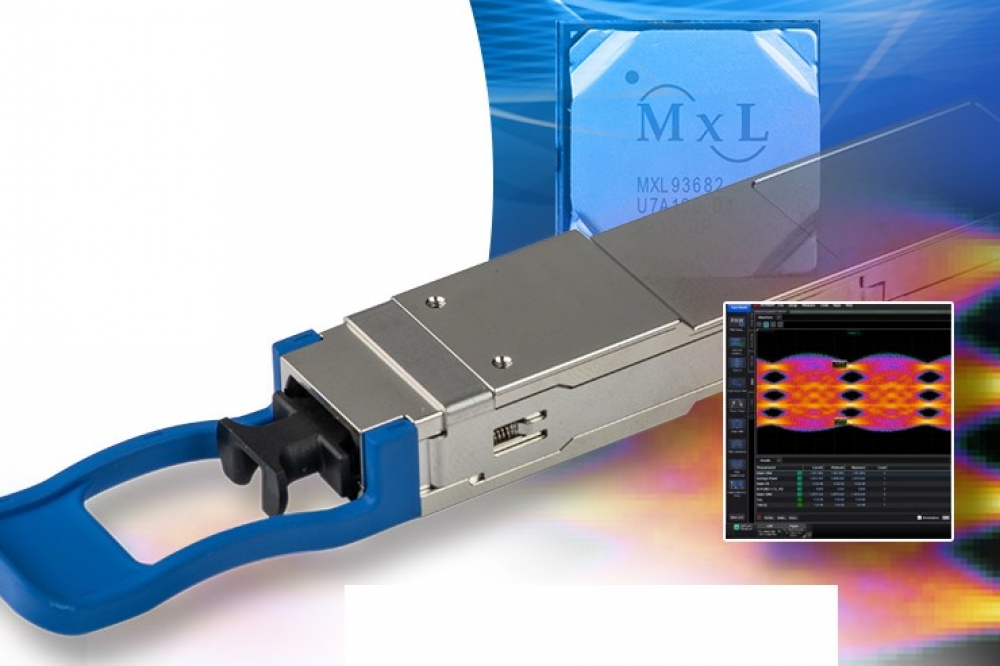 Combined chipset delivers power and performance for 400G and 800G transceivers

DustPhotonics, a developer of silicon photonics technology, and MaxLinear, a semiconductor company for communication applications, have partnered to demonstrate a silicon photonics chipset with integrated lasers directly driven from a DSP without the use of any external driver chip.
The MaxLinear Keystone DSP (Digital Signal Processor) and DustPhotonics Carmel Silicon Photonics chip were shown together to support direct-drive operation, which reduces the overall cost and power dissipation of optical transceivers for data communication. This combined solution is ideal for applications such as 400Gb/s and 800Gb/s pluggable modules and on-board optics.
The DustPhotonics chip includes an integrated DFB (Distributed-feedback) laser and DustPhotonics revolutionary Low Loss Laser Coupling technology (L3C), achieving a very efficient coupling of light into the Photonic Integrated Circuit (PIC). This unique technology enables the use of 1 laser for every 4 channels.
The MaxLinear Keystone chip is part of a family of DSPs capable of both 400Gb/s and 800Gb/s operation, based on TSMC's 5nm process. The Keystone DSP provides a rich set of features for transceivers, CPO (Co-Packaged Optics) modules and on-board optics while achieving significantly lower power than competitive solutions. The integrated drivers are optimised for silicon photonics direct-drive and provide the best industry performance for this application.
The combined solution enables performance that significantly exceeds all IEEE specifications. In terms of power consumption, 400Gb/s transceivers can now be designed to reach sub 7W.
"DustPhotonics is focused on enabling best-in-class Silicon Photonics chips to simplify the efforts of transceiver and systems designers," said Yoel Chetrit, VP of R&D of DustPhotonics. "Not only can our Carmel chip simplify the overall system design by reducing the total number of lasers to a single laser for 4 channels, but it also eliminates the external driver, which reduces the cost, power and complexity of the overall system."

"The combination of our Keystone 5nm integrated driver DSPs with DustPhotonics' silicon photonics demonstrates the significant power and performance advantages achievable with our integrated drivers," said Drew Guckenberger, VP of Optical Interconnect at MaxLinear. "With double-digit year-on-year growth in market demand for 400Gb/s and 800Gb/s transceivers, this integrated solution can create tremendous value for our customers. We look forward to seeing full transceiver deployments in the near future."
CS International to return to Brussels – bigger and better than ever!

The leading global compound semiconductor conference and exhibition will once again bring together key players from across the value chain for two-days of strategic technical sessions, dynamic talks and unrivalled networking opportunities.

Join us face-to-face on 18-19 April 2023
View the agenda.
3 for the price of 1. Register your place and gain complementary access to TWO FURTHER industry leading conferences: PIC International and Power Electronics International.
Email info@csinternational.net or call +44 (0)24 7671 8970 for more details.