Bandgap-engineering increases wavelength and output power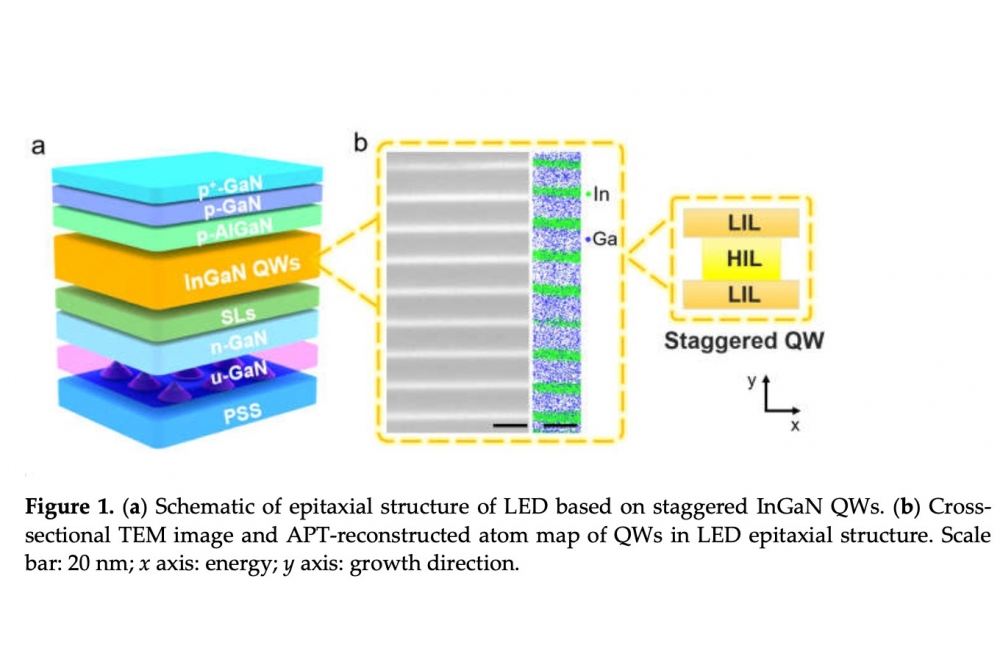 WHU team reports simultaneous increase in emission wavelength and light output power in yellow LEDs

Researchers from Wuhan University in China have reported the achievement of simultaneous increase in emission wavelength and light output power of yellow LEDs based on staggered quantum wells.
"We observe unexpected optoelectronic properties in LEDs with staggered quantum well grown under different TMIn flux. Based on the experimental data, the strain-induced composition pulling effect is alleviated in staggered QWs grown under low TMIn flux, which enables more indium incorporation in the following high-indium-composition layer. Our study provides new insights into designing epitaxial structures, which facilitates InGaN-based LEDs towards highly efficient and long-wavelength emission prospects," said Shengjun Zhou, a professor at Wuhan University who directed the research.

Although blue LEDs achieving a high external quantum efficiency, the emission efficiency is limited in the long wavelength region, which is commonly known as 'green-yellow gap' phenomenon. With the increasing emission wavelength, the efficiency of long wavelength InGaN-based LED decreases dramatically.
The researchers investigate the effect of TMIn flux variation for growing bandgap-engineered staggered quantum wells on corresponding LED properties. At 20 mA, LEDs based on staggered QWs grown under low flux show an increase of 28 percent in light output power (LOP) and longer wavelength compared to that under high flux.
Under high TMIn flux, high in-plane strain exists between adjacent layers, accompanied by the composition pulling effect, which reduces indium incorporation for the following staggered QW growth and hinders realization of yellow light emission.
According to simulation results, low-flux-grown staggered QWs contribute to increased carrier wavefunction overlap as well as enhanced electric field. The former enables high LOP, while the latter results in the emission towards long wavelength, promising to solve an ever-present concern that InGaN-based long wavelength LED performance deteriorates with increasing emission wavelength.
'Unexpectedly Simultaneous Increase in Wavelength and Output Power of Yellow LEDs Based on Staggered Quantum Wells by TMIn Flux Modulation'; Nanomaterials 2022, 12, 3378.