NXP announces GaN chips in 5G RF power range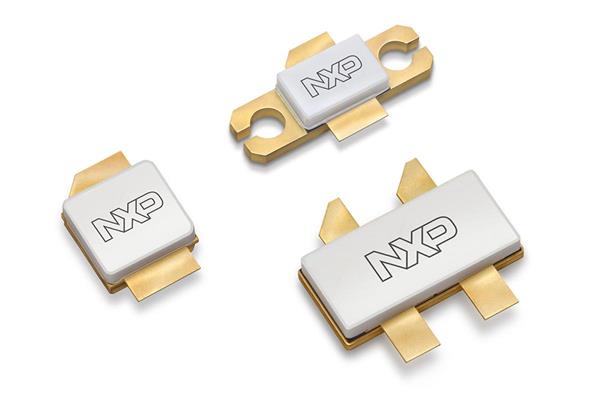 New GaN offerings include power transistors for 1800 MHz to 2200 MHz bands and for MIMO solutions at 3.5 GHz
At IMS 2018, NXP is introducing new RF GaN wideband power transistors and also expanding its Airfast third-generation Si-LDMOS portfolio of macro and outdoor small cell solutions for 5G.

The new GaN offerings include the A3G22H400-04S wideband power transistor suited for 40 W base stations. It yields up to 56.5 percent efficiency and 15.4 dB of gain and covers cellular bands from 1800 MHz to 2200 MHz. There is also the A3G35H100-04S GaN transistor providing 43.8 percent efficiency and 14 dB of gain. This device enables 16 TX MIMO solutions at 3.5 GHz.
Si-LDMOS products include the A3T18H400W23S, a 1.8 GHz device with Doherty efficiency up to 53.4 percent and gain of 17.1 dB. And the A3T21H456W23S, covering the full 90 MHz band from 2.11 GHz to 2.2 GHz. There is also the A3I20D040WN ultra-wideband LDMOS chip offers peak power of 46.5 dBm with 365 MHz wideband class AB performance of 32 dB of gain, 18 percent efficiency at 10 dB OBO. Finally, the A2I09VD030N has peak power of 46 dBm with class AB performance of 34.5 dB gain, 20 percent efficiency at 10 dB OBO. The RF bandwidth for this product is 575 MHz to 960 MHz.
NXP says that the breadth of its range of RF power technologies""which include GaN, silicon-LDMOS, SiGe, and GaAs - allows product options for 5G that span frequency and power spectrums with varying levels of integration.
Connecting the Compound Semiconductor Industry
The 13th CS International conference builds on the strengths of its predecessors, with around 40 leaders from industry and academia delivering presentations that fall within five key themes: Ultrafast Communication; Making Headway with the MicroLED; Taking the Power from Silicon, New Vectors for the VCSEL, and Ultra-wide Bandgap Devices.
Delegates attending these sessions will gain insight into device technology, find out about the current status and the roadmap for the compound semiconductor industry, and discover the latest advances in tools and processes that will drive up fab yields and throughputs.
To discover our sponsorship and exhibition opportunities, contact us at:
Email:
info@csinternational.net
Phone:
+44 (0)24 7671 8970
To register your place as a delegate, visit:
https://csinternational.net/register
Register