Complete Electronics Package for Initial Tests and Test Series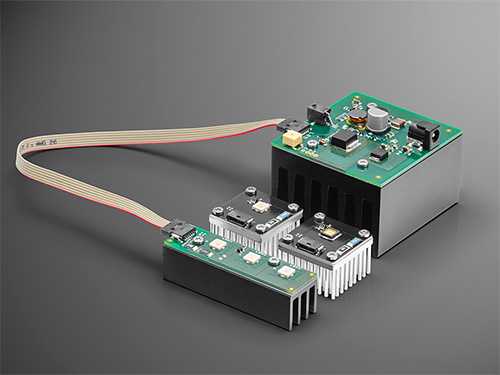 LASER COMPONENTS announces a plug & play solution for quick and replicable tests and test series for several LEDs in the ultraviolet spectrum.
The AMPYR Evaluation Kit LED30UV contains an LED carrier with a heat sink, an AMPYR LED30W LED driver with an integrated heat sink, a plug-in power supply unit, and a six-pole cable for connecting the driver and carrier unit. The carrier is already preconfigured for the requested UVA, UVB or UVC LED with the package supporting UV LEDs of up to 25 W.

The LED30UV Kit supports the following models:
• 6868 by LG Innotek, Seoul Viosys, Nichia
• 6060 by LG Innotek, Vishay
• 3535 by LG Innotek

The aim of the test kit is to reduce additional work and cost required for the evaluation of UV LEDs.