Mobile 5G to be commercially launched in MENA in 2019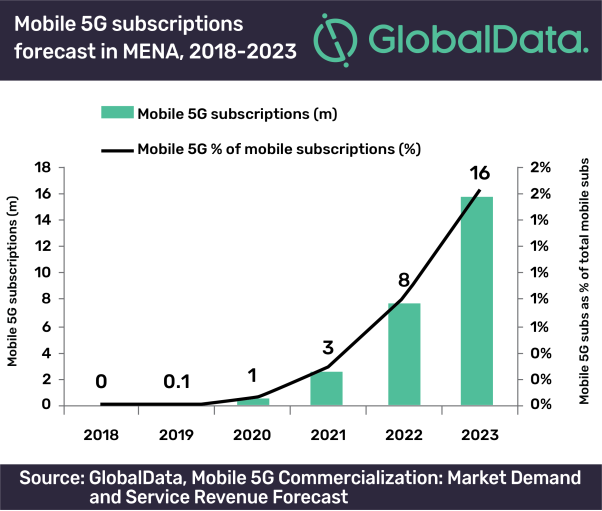 The Middle East & Africa (MENA) will see the adoption of commercial mobile 5G services in 2019, on par with the US and a number of leading countries in the Asia Pacific (APAC) region, says GlobalData, a leading data and analytics company.

Qatar, the UAE and Saudi Arabia have already announced live 5G network launches in H1 2018. However, with 5G-enabled smartphones becoming available in 2019, GlobalData expects the adoption of mobile 5G subscription to only start in 2019. According to GlobalData, mobile 5G subscribers in MENA will expand rapidly to 15.8 million in 2023, up from 0.1 million in 2019.

Houda Bostanji, Principal Analyst at GlobalData, comments: "The availability of commercial mobile 5G services in 2019 in the GCC will be mainly driven by national digital transformation plans, end-users' enhanced mobile broadband (MBB) requirements and telcos' need for increased network capacity and spectrum usage efficiency."

According to GlobalData's report: 'Mobile 5G Commercialization: Market Demand and Service Revenue Forecast' the first 5G mobile commercial services are expected to be available in 2019, with operators rolling out offers in selected markets in APAC, North America, Europe and MENA. Latin America, meanwhile, will see the first mobile 5G commercial releases in 2021.

Bostanji concludes: "By the end of 2023, we project the number of mobile 5G subscriptions globally will reach 806.9 million, 8.1% of total mobile subscriptions worldwide."


Connecting the Compound Semiconductor Industry
The 13th CS International conference builds on the strengths of its predecessors, with around 40 leaders from industry and academia delivering presentations that fall within five key themes: Ultrafast Communication; Making Headway with the MicroLED; Taking the Power from Silicon, New Vectors for the VCSEL, and Ultra-wide Bandgap Devices.
Delegates attending these sessions will gain insight into device technology, find out about the current status and the roadmap for the compound semiconductor industry, and discover the latest advances in tools and processes that will drive up fab yields and throughputs.
To discover our sponsorship and exhibition opportunities, contact us at:
Email:
info@csinternational.net
Phone:
+44 (0)24 7671 8970
To register your place as a delegate, visit:
https://csinternational.net/register
Register