Midsummer installs latest CIGS roof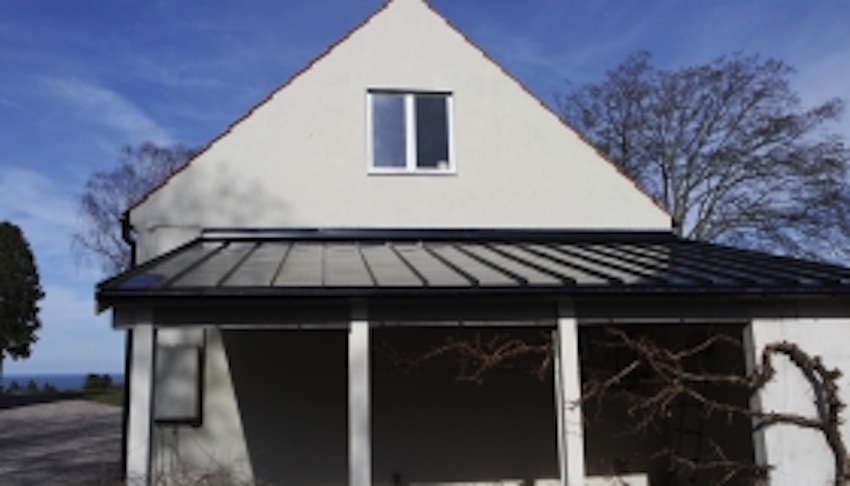 Folded metal roof is integrated with Midsummer's thin film CIGS solar panels

Midsummer has announced that its new and slimmer energy-producing solar cell roof has been successfully installed on a house in Kivik, in the southern part of Sweden. It is the first installation of the new roof. The roof is a folded metal roof that is integrated with Midsummer's thin film CIGS solar panels.

"Our end customer in Kivik was very happy with the previously installed solar cell roof and we are delighted to supply him with the newer, slimmer solar cell roof. Our customer in Kivik really appreciates the new, more stylish integrated design", said Sven Lindström, CEO at Midsummer.

The new model solar cell roof is slimmer than the previous one, which makes the roof more aesthetically pleasing and also increases the installed power per square meter. The new Midsummer solar roofs also offer the possibility to connect the solar panels for longer roofs, which means that Midsummer can supply its metal roof with integrated solar panels in lengths of up to 12 metres.

"In recent years, solar cells have grown rapidly throughout the world and we are now experiencing a great interest in our improved energy-producing metal roof Midsummer solar roofs. With the solar panels pre-integrated in the roof, this product is a no-brainer for both new buildings and many older buildings", Sven Lindström continued.

Midsummer's DUO system has taken the position as the most widespread manufacturing tool for flexible CIGS solar cells in the world.