Midsummer opens new solar energy R&D facility in Sweden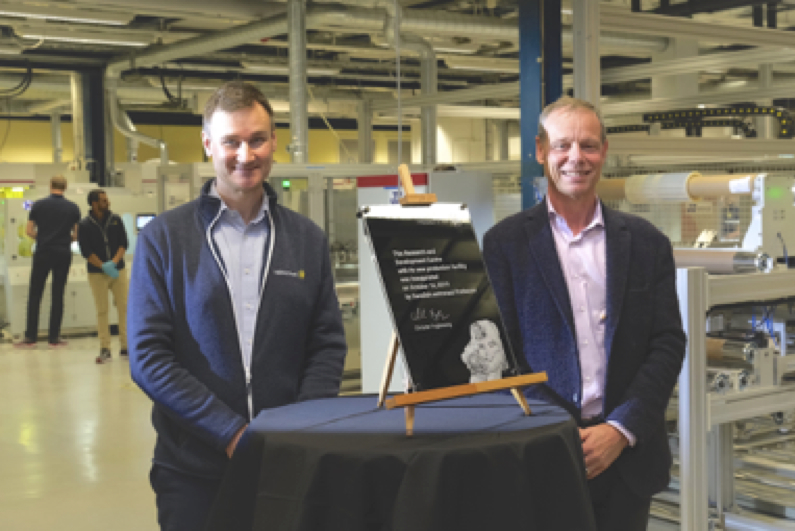 Sweden's first astronaut, Christer Fuglesang, formally inaugurated the new facility

Swedish solar CIGS firm Midsummer has opened a state-of-the-art solar energy technology research and development facility together with a new production line for building integrated solar roofs in Järfälla, Sweden.
Sweden's first astronaut, Christer Fuglesang (pictured above right with Sven Lindström, CEO of Midsummer) formally inaugurated the new facility in the presence of solar energy industry leaders, media, clients and partners.
"I find Midsummer´s technology very exciting," said Christer Fuglesang, astronaut and professor at KTH Royal Institute of Technology. "Solar energy is an important technology and during my stay at the ISS space station we were of course completely powered by the sun. It is good to have one of the best and most advanced research facilities based in Sweden and I am honoured to inaugurate it."
To maintain its global technological advantage, Midsummer has now invested in a brand new research and development facility in Järfälla just north of Stockholm, Sweden. That means, among other things, a 1,000 sqm (10,800 sq ft) expansion of the company's factory and head office with more than 100 employees. The new facility will also house a new production line for energy producing standing seam metal roofs for the Nordic consumer market. The new Midsummer solar roof brand has been met with great interest from the markets since its recent launch.
"At our new research and development facility, the future of 100 percent environmentally friendly renewable energy technology will be developed," said Sven Lindström, CEO of Midsummer. "It will be one of the world's leading laboratories, perhaps the foremost, for research and development of production friendly CIGS technologies and building integrated photovoltaics".