Teledyne e2v unveils hi-rel 650V GaN HEMT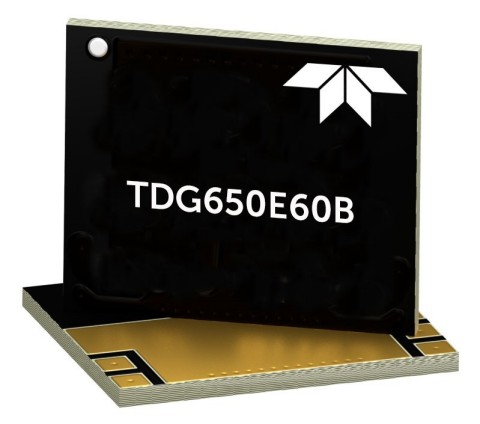 GaN Power HEMT now shipping in both top- and bottom-side cooled versions

Teledyne e2v HiRel is launching a new, ruggedised 650V/60A GaN power HEMT based on technology from GaN Systems.

The new GaN power HEMT, TDG650E60, is claimed to be the highest voltage GaN power device available on the market for hi-rel military and space applications, and is now available with both top- or bottom-side cooled options.

Teledyne's TDG650E60 GaN Power HEMT boasts a small form factor and uses patented Island Technology from GaN Systems. This technology is a scalable, vertical charge dissipating system that gives the power transistor low thermal losses, high power density, no-charge storage, and very high switching speeds.

Unlike SiC devices, the GaN-based TDG650E60 parts can easily be implemented in parallel to increase the load current or lower the effective RDSon. The use of exclusive GaNpx packaging allows very high frequency switching and excellent thermal characteristics, enabling customers to significantly reduce the size and weight of power electronics, according to the company.

"Teledyne e2v has a proud heritage of space products, and we are now bringing the unprecedented efficiency of GaN power to our customers," said Mont Taylor, VP of Business Development for Teledyne e2v HiRel. "These devices enable design engineers to create highly efficient, small power supplies and motor controllers which can comfortably function in high radiation environments such as space."