Ams-Osram Lights Way for Luxonis 3D Vision System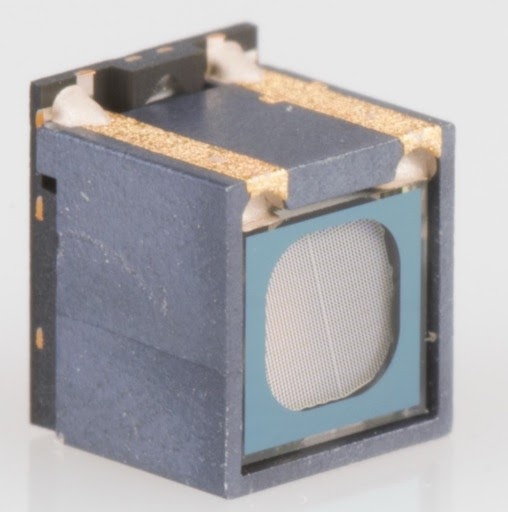 VCSEL-based projector is featured in OAK-D Pro spatial Artificial Intelligence cameras

Ams-Osram has announced a new partnership with Luxonis, a developer of embedded artificial intelligence and computer vision technology.
Luxonis provides 3D solutions for automatic guided vehicles (AGVs), robots, drones and more that help create high-quality 3D maps for applications such as object detection and obstacle avoidance.
A key component of these solutions are infrared light sources, such as Ams-Osram's Belago 1.1 Dot Projector (pictured above). The Belago 1.1 combines an infrared VCSEL chip with special optics and a robust package that is ideally suited for Active Stereo Vision (ASV).

With ASV, two infrared cameras read the pattern Belago 1.1 projects on a defined field-of-view. By comparing the images of both cameras, depth is calculated, and a 3D map is created. Obstacles are detected on the 3D map prompting the robot to take action, such as stopping or going around the obstacle.
Luxonis chose Ams-Osram's Belago 1.1 for its recent OAK-D Pro spatial AI camera. The OAK-D Pro provides fast and accurate object detection through AI. Its open-source software allows for fast and flexible integration into a wide variety of application environments. Stereo cameras, featuring the Belago 1.1 Dot Projector, offer accurate depth perception for any scene and lighting condition for object tracking in real-time.
"Active Stereo is incredibly powerful and useful in robotics – but it was a missing piece in the OAK ecosystem until now – primarily because we wanted a solution with rock-solid eye safety. Given the open nature of our ecosystem, it was pivotal that we be eye safe. We were ecstatic when we found Belago 1.1 because its architecture allows simple and robust eye-safety, which enables Luxonis and our customers to autonomously integrate active stereo depth safely and confidently, unlocking untold applicability," said Brandon Gilles, CEO at Luxonis.
The Belago 1.1 Dot Projector features an infrared pattern projector for increased depth performance. The product includes 5,000 individual light dots, which are generated by combining a VCSEL with a Micro Lens Array (MLA) optical system.
"The Belago 1.1 provides very stable, focus-free dot projection for increased texture on the scene and ASV depth performance. Applied in Luxonis' latest ASV camera, customers have access to a turnkey 3D solution for quick adoption in a wide range of applications," said Joerg Wertli, Senior Marketing Manager at Ams-Osram.
The compact dimensions of 4.2 mm x 3.6 mm x 3.3 mm allow customers to develop space-saving system designs. The Belago 1.1 emits light with a wavelength of 940 nanometers for operation independent of ambient light conditions. The robot's path is reliably detected at a distance of one to three meters for collision avoidance. The Luxonis OAK-D Pro also uses Ams-Osram's SFH 4725AS A01 infrared LED for flood illumination for no-light compute vision and perception.