A promising technology for quantum information processing?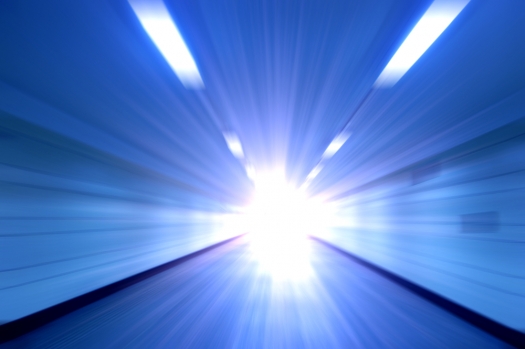 Researchers produce entangled photon pairs from quantum dots in nanowires
For implementing ambitious quantum information processing schemes, such as quantum repeaters, you need a bright photon source that combines high-fidelity entanglement, on-demand generation, high extraction efficiency, directional and coherent emission, as well as position control at the nanoscale. So far all of these properties have yet to be achieved in a single device.
Semiconductor quantum dots embedded in nanowire waveguides look like a promising candidate. This is because the high refractive index of a nanowire waveguide around a quantum dot ensures that the emitted light is guided in the desired direction and a tapered end makes the light extraction very efficient. However, entanglement has not yet been demonstrated for a nanowire quantum dot - until now.
Scientists from Delft University of Technology, the National Research Council of Canada, Politecnico di Milano, and Micro Photon Devices have shown a bright and coherent source of strongly entangled photon pairs from a position-controlled nanowire quantum dot with a fidelity as high as 0.859±0.006 and concurrence of 0.80±0.02. The InP nanowires contained single InAsP quantum dots and were grown using chemical beam epitaxy.
The report published in Nature Communications, also shows how the two-photon quantum state is modified via the nanowire shape.
The researchers say that the new nanoscale entangled photon source can be integrated at desired positions in a quantum photonic circuit, single-electron devices and light-emitting diodes.
"˜Observation of strongly entangled photon pairs from a nanowire quantum dot' by Marijn A. M. Versteegh et al appears in Nature Communications 5, Article number: 5298 doi:10.1038/ncomms6298
Connecting the Compound Semiconductor Industry
The 13th CS International conference builds on the strengths of its predecessors, with around 40 leaders from industry and academia delivering presentations that fall within five key themes: Ultrafast Communication; Making Headway with the MicroLED; Taking the Power from Silicon, New Vectors for the VCSEL, and Ultra-wide Bandgap Devices.
Delegates attending these sessions will gain insight into device technology, find out about the current status and the roadmap for the compound semiconductor industry, and discover the latest advances in tools and processes that will drive up fab yields and throughputs.
To discover our sponsorship and exhibition opportunities, contact us at:
Email:
info@csinternational.net
Phone:
+44 (0)24 7671 8970
To register your place as a delegate, visit:
https://csinternational.net/register
Register