EPC Expands 100V eGaN FET Family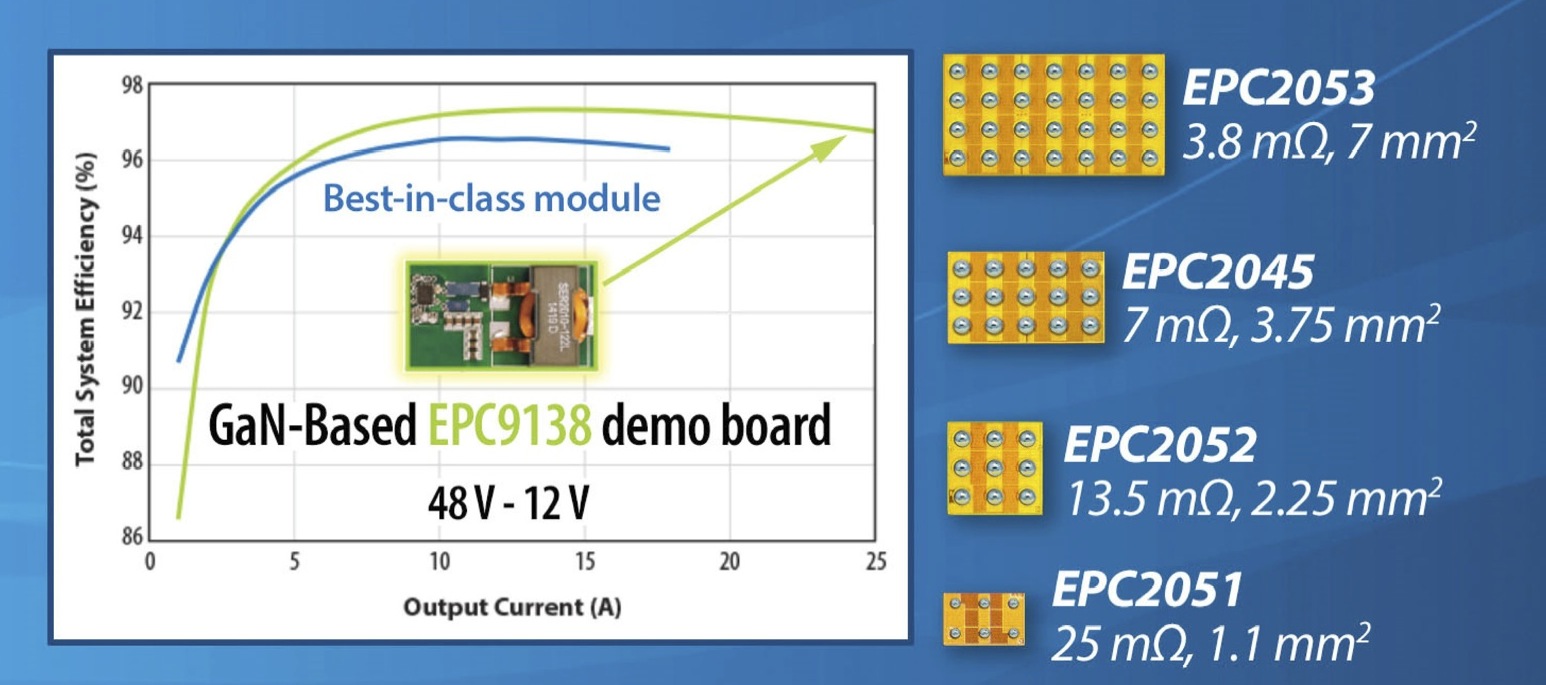 Offering designers better performance and cost for 48 V DC-DC conversion

EPC has introduced the EPC2053, a new 3.8 mΩ, 100 V eGaN FET which joins the EPC2045 (7 mΩ, 100 V), EPC2052 (13.5 mΩ, 100 V) and EPC2051 (25mΩ, 100 V) to offer designers a family of 100V products designed for 48 V server, 48 V automotive, and 54 V data centre applications. Other applications for the 100 V family include single-stage 48 V to load open rack server architectures, USB-C, precision motor drives, LED lighting, and lidar.

According to Alex Lidow, EPC's co-founder and CEO: "There are very significant performance advantages gained from GaN in 48 VIN conversion and this is a market where growth is exploding for multiple applications, such as Artificial Intelligence (AI), cloud computing, and advanced high-performance motor drives. In addition, automotive systems are moving from 12 V distribution systems to 48 V systems to support the emergence of autonomous vehicles with lidar, radar, camera, and ultrasonic sensors. Our new family of 100 V products demonstrate that in all 48 V topologies, the highest efficiency and lowest cost is achieved with GaN FETs and ICs."

There are a variety of demo boards available including the EPC9138, a 400 kHz switching frequency, 48 VIN, 15 A output current, buck converter featuring the 100 V EPC2053. The EPC9141 demonstration board is a 400 kHz switching frequency, 48 VIN, 10 A output current, buck converter featuring the 100 V EPC2045.

Also offered are standard half-bridge development boards available to support easy in-circuit performance evaluation of each of the 100 V family devices. The EPC9093 supports the EPC2053, the EPC9078 and EPC9205 support the EPC2045, the EPC9092 supports the EPC2052 and the EPC9091 supports the EPC2051.