LED video display market defies pandemic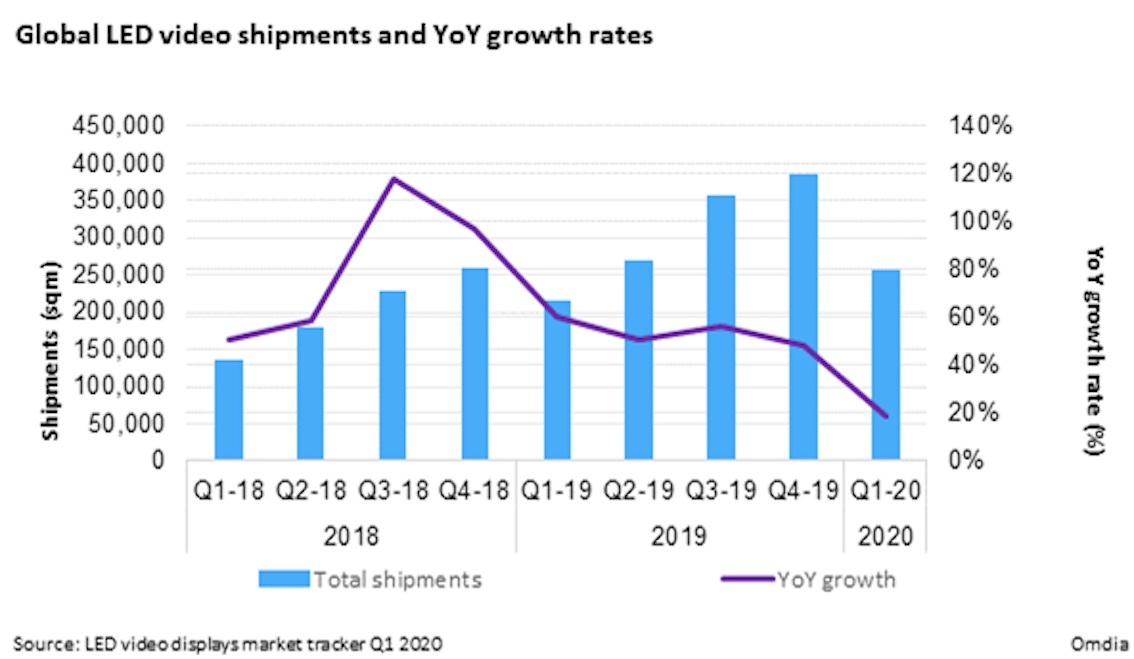 Sector achieved 18.8 percent year-over-year unit growth in Q1 2020

The worldwide LED video display market continued to expand on a year-over-year unit basis during the first quarter of 2020, with 255,648 square meters shipped, up 18.8 percent from 215,148 during the same quarter in 2019.

"While most technology markets suffered declines in the first quarter, LED video displays managed to buck the trend as new verticals and rental applications are enjoying booming growth rates ," said Julie-Anne Badier, senior analyst, Pro AV devices at Omdia. "LED video displays are gaining acceptance in a number of verticals that used to employ projection or LCD display technology, such as control rooms and corporate and security markets."

In the LED video display market, a single unit corresponds to a square metre.

Despite the strong performance, the rate of shipment growth in the first quarter represented a significant deceleration compared to recent quarters, which boasted growth rates in the 50 percent range and higher. This slowdown was expected, as the first quarter is typically the slowest period of the year, due to normal seasonality.

However, compared with previous years, year-over-year growth proved to be much weaker due to the widespread impacts of COVID-19. Indeed, during the first quarter of 2020, Chinese factories were closed beyond the end of the Lunar New Year holiday. Furthermore, sales and supply chains suffered disruptions as well.

"While the LED video display market expanded on a year-over-year basis in the first quarter, shipments declined by 33 percent compared to the fourth quarter," Badier observed. "China was hit the worst, recording a 59.4 percent dip in shipments, as the region was struck first and suffered the consequences."

North America remained the second largest market in terms of shipments in the first quarter. Shipments in the region were almost flat during the period, with a decline of 6 percent quarter-over-quarter. Western Europe ranked third in shipments, surpassing Asia-Pacific. The shipment performance in Asia-Pacific was disproportionately impacted because the region is in proximity to China.

LED leaders
Looking at the LED video display supplier landscape in the first quarter, Unilumin led both the global and domestic (China) markets in terms quantities shipped, with a 16.5 percent share. Unilumin's shipments even increased overseas due to solid performances in Japan and Eastern Europe.
Absen followed with 13.7 percent market share during the first quarter. Because Absen is strong in rental products, the COVID-19 crisis could hurt the brand's growth.

Leyard, which ranked second in total shipments during the fourth quarter of 2019, saw one of the market's sharpest drops in terms of shipments quarter-over-quarter. With its ranking dropping to fourth during the first quarter, the brand's global shipments declined 62 percent compared with the previous quarter. Leyard's overseas shipments grew slightly, while the company's performance in China plummeted 71.5 percent quarter-over-quarter.

Fine pixel pitch shipments record year-over-year growth in Q1
Year-over-year shipment growth of fine-pixel-pitch LED video displays remained strong for products smaller than or equal to 0.99mm in size in the first quarter. This phenomenon was due to Samsung expanding its shipments of these types of LEDs.

There was strong growth but slower expansion for other fine-pitch categories. For example, the 1-1.99mm category grew by 50.8 percent year-over-year compared to last year's 135.9 percent expansion. The 2-2.99mm category attained an 83.3 percent year-over-year increase compared with last year's 283.6 percent growth.

For now, 3-4.99mm remains the most popular pixel-pitch category. However, this area experienced a slowdown in growth to 19.2 percent year-over-year.

In contrast, the second and third most common pixel-pitch categories recorded mild drops. Indeed, the 5-9.99mm and 10-14.99mm categories registered 7.8 percent and 6.6 percent declines respectively on a year-over-year basis.

These declines in broader pixel pitch demand might not be purely driven by factories closure during Chinese New Year or COVID-19, but instead may represent a sign of the market's evolution toward finer pitches, even in outdoor settings.