Korean team makes 0V threshold p-channel perovskite TFT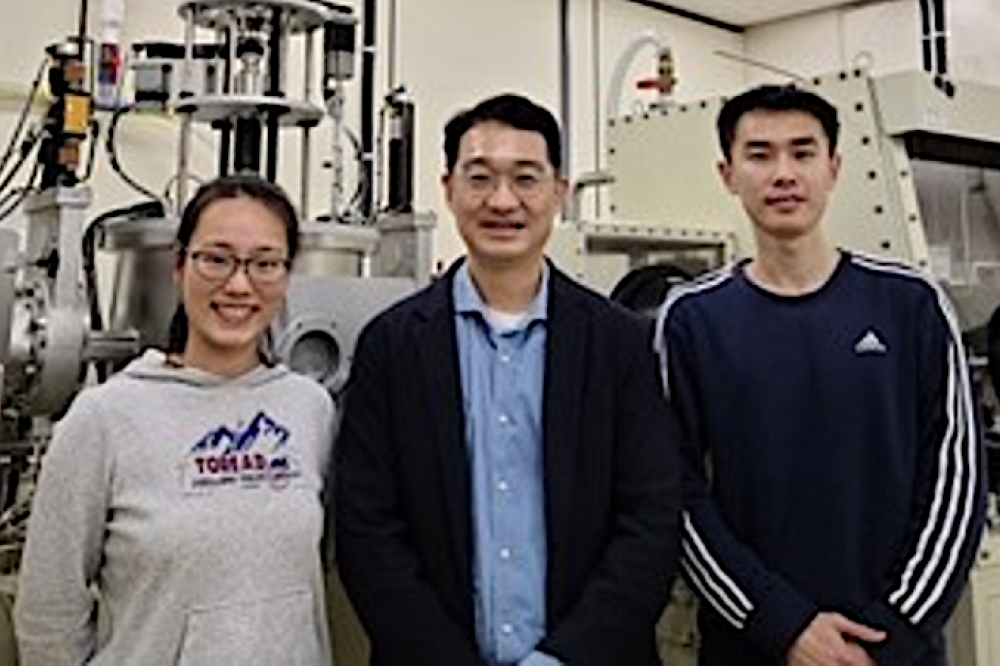 Perovskite thin film transistor shows potential for OLED display driving and other applications

A research team from POSTECH (Pohang University of Science and Technology) in collaboration with Samsung Display, has developed a p-channel perovskite thin film transistor (TFT) with a threshold voltage of 0V.
In this study, published in Nature Communications, the research team led by Yong-Young Noh and PhD candidates Huihui Zhu and Ao Liu (pictured centre, left and right) constructed a MASnI3 semiconductor layer by mixing the halide anions (iodine-bromine-chlorine) to increase the stability of the transistor. The device made using this semiconductor layer showed high performance and excellent stability without hysteresis.

In experiments, the TFTs realised a high hole mobility of 20cm2V-1s-1 and 10 million on/off current ratio, and also reached the threshold voltage of 0V. The researchers say that a p-channel perovskite transistor with a threshold voltage of 0V is a world first. By making the material into a solution, the researchers also enabled the transistors to be printed, lowering their manufacturing cost.
Through this study, the research team demonstrated that the primary cause of the hysteresis that lowers the performance of the perovskite TFTs is the minority carrier trapping, not the ion migration. By lowering the threshold voltage, the movement of electrons and holes is undisturbed, enabling the current to flow smoothly.
Furthermore, the research team succeeded in integrating the perovskite TFTs with commercialised n-channel IGZO TFTs on a single chip to construct high-gain complementary inverters through a circuit-printing method.
This study is drawing attention from academic circles as a technology applicable to the development of OLED display driving circuits, p-channel transistors of vertically stacked devices, and neuromorphic computing for AI calculations.
The POSTECH research team and Samsung Display have already applied for domestic and international patents for this technology last year.
'High-performance hysteresis-free perovskite transistors through anion engineering' by Huihui Zhu et al; Nature Communications, April 2022