Lumileds; CoB arrays hit 10,000 lm at 100 lm/W
The III-nitride based LEDs for downlights and outdoor/industrial fixtures target a CDM of 70 - 100W luminaire equivalent
Philips Lumileds says it is now delivering the highest flux and most efficient LED arrays in higher lumen packages.
The new LUXEON CoB 1211 is suited to industrial and outdoor applications and is an ideal replacement for 70W and 100W equivalent ceramic discharge metal halide (CDM) lamps.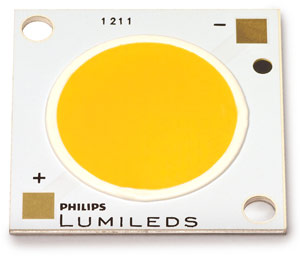 As the latest addition to Philips Lumileds LUXEON CoB arrays portfolio, the LUXEON CoB 1211 delivers efficacy of 100 -130 lm/W, depending on colour temperature and CRI of the luminaire. The LUXEON CoB 1211 achieves cool white output exceeding 10,000 lm and 100 lm/W at 70CRI, while achieving a light emitting surface (LES) of 19 mm.
"The LUXEON CoB 1211 has the best combination of a small Light Emitting Surface and high efficacy at its specific lumen package," says Eric Senders, Product Line Director at Philips Lumileds.