Multiple opportunities for long-wavelength VCSELs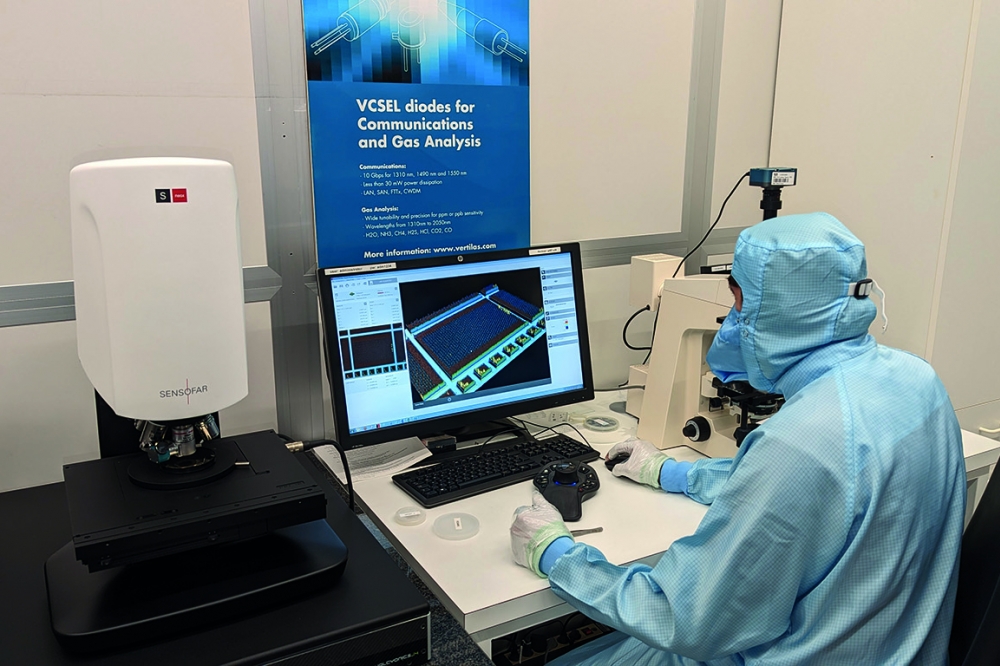 Propelling VCSEL emission further into the infra-red with InP-based designs creates lucrative opportunities in data transmission and sensing markets.

BY CHRISTIAN NEUMEYR FROM VERTILAS

Two decades of substantial sales have helped to establish the VCSEL as a mainstream laser technology. Initial success came from short-reach optical communication, with devices emitting at 850 nm enjoying widespread deployment in data centres. And more recently, 3D sensing has become the ultimate killer application for VCSELs, such as 940 nm variants that enable facial recognition in many models of smartphones.

Additional opportunities are now emerging further into the infra-red, particular for wavelengths between 1.3 µm and 2.3 µm, where VCSELs can offer an attractive alternative to edge-emitting lasers. VCSELs that operate in this spectral range can provide eye-safe sources for sensing, and find applications in optical networks, where they draw far less power than the incumbents, enabling high-density multi-channel interconnects.

At Vertilas of Garching, Germany, we are ideally placed to capitalise on these new opportunities. We have more than 20 years of experience in producing lasers, including tremendous expertise in the manufacture of InP-based VCSELs that emit at longer wavelengths within the near infra-red.

Following the launch of our company in 2001, we enjoyed initial commercial success from a portfolio of VCSELs for gas sensing, with products covering more than 15 wavelengths from 1.3 µm to 2.3 µm. Since then we have expanded our horizons. More recent breakthroughs include: the development of the fastest 1.3 µm and 1.55 µm single-mode lasers for optical data transmission, delivering 40 Gbit/s data rates in 2017 and 2014, respectively; and the launch of 1.3 µm 2D VCSEL arrays for 3D sensing applications in 2022 (see "Key technology milestones of Vertilas InP VCSELs" for a more detailed account of our triumphs).

The VCSELs and VCSEL arrays that we produce are well suited for applications in data communications and metro networks, which are built around 10, 100, and 400 Gbit/s modules and interconnects. New data centres and infrastructure for fast-growing cloud applications are increasingly based on single-mode fibre transmission, so there is a significant opportunity for sales of energy-efficient long-wavelength sources that meet this criterion.

Our 10 and 40 Gbit/s VCSELs are strong contenders in this market, combining a single-mode output with ultra-low electrical power consumption – it is less than 20 mW. As VCSELs are also renowned for their small die size and integration capabilities, our devices are ideal for multi-channel grey or multi-colour dense-wavelength-division multiplexing optical interconnects and modules.

As well as eye-safety, our long wavelength 2D VCSEL arrays have additional merits for serving 3D sensing and illumination markets. Whether deployed in robotics or autonomous vehicles, face and gesture recognitions systems or automotive lidar, our sources can help to prevent sunlight interference while ensuring cost-effective small-form-factor packaging.